What's
Happening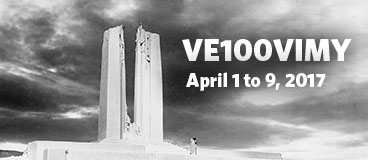 Vimy commemorative station

From April 1 to 9, 2017, amateur radio operators will activate Canada's Vimy Ridge memorial sites in France. Canadian portable operations are also being planned for each province. Congratulations and thank you to organizer Fred VE7IO and all who operated as VE100VIMY/VE7 during the BC operating period February 12 to 18.

About VE100VIMY | VE100VIMY portable operation guide
2017 PNW DX Convention in Spokane Aug. 4-6

This year's 62nd annual Pacific Northwest DX Convention -- August 4 to 6 -- is hosted in Spokane, WA, by the Spokane DX Association and Idaho DX Association. Register now and be sure to book your hotel accommodations, too.

Visit the 2017 PNW DX Convention website
Thanks for participating in the 2017 BCQP

View the final list of logs received (updated March 9)

Note: If you submitted a log, you will have received an email confirmation. If you don't see your callsign in the list, please contact Rebecca at va7bec@rac.ca or resubmit your log to bcqp@orcadxcc.org

View BCQP reports for all years since 2012
Orca Report -- March meeting
Lots of updates were shared at the March meeting. Check out the Orca Report for the details.

Read the Orca Report
PNW Cup update
Jim VE7FO as updated the club totals for this year's PNW Challenge Cup. Remember, contest organizers don't give your info to the club. If you want to contribute to our club total, please review the tutorial on how to submit your scores:

How to submit your scores | Eligible contests
Join the club!
The Orca DX and Contest Club always welcomes new members. See who has already joined!

DX to watch for newest PJ2/VA7AM Monday 20th to the 27th excluding WPX when I will be part of the PJ2T team Curacao, PJ2/VA7AM: Dave will operate from PJ2 Mar. 20 to 27, 2017 (WPX SSB as PJ2T) Guatemala, TG9BVV TG9/VE7BV: Dwight will be on from TG9 Apr. 21-May 15, 2017 Cocos Keeling Is., VK9CGJ: 12-30 Sept., 2017 Christmas Is., VK9XGJ: Oct. 1-21, 2017 Bouvet Is., 3Y0Z: Jan. 20-Feb. 28, 2018 Recent DX activations... Austral Is., FO/A: Feb. 15-Mar. 3, 2017 (VE7KW VA7DX W5RF) North Cook Is., E51AMF: Jan. 11-Feb. 6, 2017 St. Paul Is., CY9C: Aug. 19-29, 2016 Botswana, A25UK: Apr. 13-20, 2016 | Clublog Juan de Nova, FT4JA: Mar. 31-Apr. 12, 2016
Contest Corner THIS WEEK'S CONTESTS EA RTTY Apr. 1-2 (rules). JIDX CW Apr. 8-9 (rules). CQ Man-Min DX Apr. 15-16 (rules). SP DX RTTY Apr. 22-23 (rules). BARTG 75 RTTY Apr. 23 (rules). 7QP May 6-7 (rules).
Recent contest activity... CQ WPX SSB Mar. 25-26 (rules). RSGB Commonwealth (BERU) Mar. 11-12 (rules). BARTG HF RTTY Mar. 18-20 (rules). Russian DX Mar. 18-19 (rules). ARRL DX SSB Mar. 4-5 (rules). NAQP RTTY Feb. 25-26 (rules). CQ 160-Meter SSB Feb. 24-26 (rules). ARRL DX CW Feb. 18-19 (rules). CQ WPX RTTY Feb. 11-12 (rules). BC QSO Party Feb. 4-5 (rules). Post your scores on the 3830 reflector.
Club members are encouraged to join our Orca DXCC Yahoo! Group to get the latest club info.