Club
Meetings
The Orca DXCC holds regular meetings in the Lower Mainland (Vancouver, B.C. area).


All regular club meetings are held at 7 p.m. on the second Tuesday of the month, at the RiverHouse Restaurant, 5825 - 60th Ave. in Delta, BC. MAP
Catch up on previous meetings with The Orca Report -- prepared by Rebecca VA7BEC:

Orca Report 84 Dec. 10, 2019 Orca Report 83 Nov. 12, 2019 Orca Report 82 Oct. 8, 2019 Orca Report 81 Sep. 10, 2019 Orca Report 80 June 11, 2019 Orca Report 79 May 14, 2019 Orca Report 78 Mar. 12, 2019 Orca Report 77 Jan. 8, 2019 Orca Report 76 Dec. 14, 2018 Orca Report 75 Nov. 13, 2018 Orca Report 74 Oct. 9, 2018 Orca Report 73 Sep. 11, 2018 Orca Report 72 June 12, 2018 Orca Report 71 May 8, 2018 Orca Report 70 Mar. 13, 2018 Orca Report 69 Feb. 13, 2018 Orca Report 68 Jan. 9, 2018 Orca Report 67 Dec. 12, 2017 Orca Report 66 Oct. 10, 2017 Orca Report 65 May 9, 2017 Orca Report 64 Apr. 13, 2017 Orca Report 63 Mar. 14, 2017 Orca Report 62 Feb. 15, 2017 Orca Report 61 Jan. 10, 2017 Older Orca Reports...
The first-ever club meeting was held Oct. 15, 2010.
The Orca Report (No. 84)
Dec. 10, 2019
December 10, 2019 -- The December meeting is always a time for Orca members and significant others to get together. We were a group of 24 and had the big dining room so there was ample room to put tables together and keep everyone engaged in conversation.

Since this is always a very casual evening, there were no announcements and no presentations.

Enjoy all the holiday-inspired activities that make December special. Be well. Be warm. All the best for 2020.

QRT de VA7BEC




P.S.: Have you ever seen "A Ham's Night Before Christmas"? Kinda cool and nostalgic, too. Check it out here
The Orca Report (No. 83)
Nov. 12, 2019
November 13, 2019 -- The big dining room at the RiverHouse Restaurant was all ours, though we were only a group of 17.

We began with a remembrance moment—a heart-tugging music video for "Solider," by Shania Twain, in partnership with the Canadian Armed Forces (CAF). The song, which is included in the album Now, released in September 2017, is essentially about the sadness of having to say good-bye to a loved one and the hope of a safe return with an underlying theme of the sacrifice that soldiers and their families make in serving their country be that Canada or elsewhere. The song has been used twice in dedications to members of CAF, past and present, and was also featured in a U.S. movie "Thank You for Your Service," which tells the story of a group of American soldiers who return from Iraq and struggle to get back to normal life.

A version of the music video uploaded by the Canadian Armed Forces for Remembrance Day 2019 is here. The version for 2018, with some different photos, is here.




BTW… did anyone besides Don VE7DS work VE2PEACE, a special event station on the air from early November through to Remembrance Day?

BCQP 2020

All past plaque sponsors have been contacted and at least nine sponsors will sponsor a plaque again in 2020. Still waiting on confirmation from one club but I anticipate a "yes".

The promotion bandwagon will begin rolling with invitations to clubs and radio-related newsletter-style publications.

PNW Convention 2020

The location will be Portland, OR, over the August 7-9 weekend. No concrete details are posted to the convention website yet. Stay tuned.

PNW Cup

Current standings put Orca in second place (2,203,390), behind Willamette Valley DXC (5,820,737) and ahead of Western Washington DXC (1,643,090).

The next eligible contest is CQ WW CW, November 22-24.

QTH Perspective: Reflecting on CQ WW SSB w/VE7VR (VC3X)

Dave VE7VR had the opportunity to participate in CQWW SSB at the end of October from his Ontario QTH, which is like a whole 'nother world in terms of QSO potential. On the west coast, conditions may be truly awful, with even big stations struggling to hear and be heard for QSOs with mult-lucrative EU. From VE3, however, EU is just a big bounce away. In addition, SA and the Caribbean seem easier to put into the log. The only apparent challenge is AS, and more specifically JA, which is comparatively easy from the west coast.

A read through 3830 comments after any big contest typically reveals splendid results for stations from the Great Lakes eastward and south, through most of the United States, but gripes and grumbles from the Pacific Northwest. It's as if we on the left coast are in a black hole, with auroral creep severely limiting over-the-pole QSOs. That said, if EU operators would only point and/or listen in our direction, QSOs would certainly be possible and even easy, despite challenging conditions. But that is not usually the case. And the reasons could fill up a whole Orca Report. LOL

I digressed. SRI

When Dave prepares for a contest, he sets out targets for each band. Below is a table of targets and actual results for CQWW SSB as VC3X during a 33-hour effort.




What happened? 80m, 40m and 20m delivered better-than-anticipated results while 15m was a big disappointment and 10m was an even bigger disappointment.

To compare, based on data gleaned from 3830, PEI was the place to be.



AH1A—Howland 1993

Howland Island, a coral atoll, is an unincorporated territory of the United States. It lies about 2,650km (1,650 miles) southwest of Honolulu, in the Pacific Ocean, and is best known as the area where Amelia Earhart and her navigator Fred Noonan disappeared en route from Papua New Guinea. A day beacon was built on Howard Island in Earhart's honour, and while it's the most prominent landmark on the island, it's fallen in a severe state of disrepair. The island is now a U.S. National Wildlife Refuge managed to protect native plants and animals, including breeding seabirds.

The video of the AH1A tent-and-generator DXpedition to Howland Island in late-January-early-February 1993 runs about 48 minutes. It starts off as most DXpedition videos do, with introductions, preparations, a few transcontinental and transoceanic flights and then a long, sometimes rough, voyage to a remote island. Initially, all seemed to start off quite OK, as expected, but soon deteriorated. Oppressive heat. Intense downpours. Flooded the tents. And while guano extraction in decades previous had supposedly removed all the material, obviously this was not completely true, evidenced by a noxious smell from the wet ground. As the video commentary and CQ article put it, this was akin to living on the floor of a giant bird cage. Despite the challenges, the operators were undeterred in their commitment to keep AH1A on the air. At the time Howland Island was #2 on the most wanted list for EU and #8 for the eastern US.

If rain and wet guano weren't bad enough, high surf on the scheduled day of departure prevented the team from getting back to the Machias. A few days later, still stranded on the island, the team learned that the boat's electrical system had failed, the generators had died and the batteries were too weak to restart them. One member of the operating team volunteered to go back to the boat and try to get equipment running again, but this was a logistical challenge and required teamwork to get the rubber raft over the waves. In the end, a generator was towed out from the island to recharge the on-board batteries.

Two weeks after the team arrived at Howland Island—and six days beyond the scheduled departure date—the Machias headed back to Christmas Island. It had been the ham radio version of Survivor.

If you'd like more info or remind yourself of details from this DXpedition almost 27 years ago, you can read the recap that appeared in the October 1993 edition of CQ. Actually, the article is fantastic and covers even more of the challenges that the team and Machias crew faced and, happily, overcame.

Many DXpedition followers are keen to know QSO statistics. The CQ article gives a breakdown, but in a nutshell, there were 22,784 CW QSOs, with 20m proving most productive, and 28,348 SSB QSOs, with 15m just edging out 20m as the best band.

As an aside, Bob K4UEE—a member of the AH1A team—is currently operating from Hiva Oa Island (Marquesas) as part of the TX7T team. Two members of Orca—Neil VA7DX and Keith VE7KW—are also there. Updates and pictures here. It's a far more civilized operation than AH1A, but a DXpedition nonetheless, so we can no doubt anticipate a personalized account from Keith at some point upon his return.

Next month is our Christmas gathering. Significant others are welcome to attend as this is more of a social event than a presentation/announcement kind of meeting. We will shift to the other side of the RiverHouse building—the pub side.

And that's what was seen and heard at the November meeting. QRT de VA7BEC
The Orca Report (No. 82)
Oct. 8, 2019
October 9, 2019 -- Our October meeting brought out 26 people, including a number of guests, and we were again in the big dining room. Service under the new RiverHouse management seems to be much for accommodating AND attentive. Yeah! There were a few announcements and then our evening presentation by Guy VA7GI about his Collins KWM-1 restoration.

Show & Tell

But first, a Show & Tell moment. Dave VE7VR displayed a new purchase -- an Elekraft KX2! It's amazing how a K3 can be squeezed into such a tiny package. This new definition of handheld radio is perfect for Dave's African adventure in 2020.

General Announcements

Orca membership currently stands at 75.

BCQP 2020 is less than four months away. Plaque sponsors will be contacted this month to confirm interest, and the PR bandwagon will then roll out in November. Just FYI, the special guest idea – having Yukon operators participate in the same way that BC operators do, making QSOs with anyone anywhere – is not going to work, mainly due to logging-related issues.

PNW DX Convention 2020 will take place August 7-9, 2020, in Portland, Oregon.

PNW Traveling Trophy scores: If you participate in one of the eligible contests -- the biggies (WW, WPX, ARRL) -- and post your claimed scores to 3830.com, please remember to select Orca DX and Contest Club from the club affiliation list. This makes it easier for Jim VE7FO, minder of the score spreadsheet for the PNW Traveling Trophy, to find your score and include it in the club total. If you don't post to 3830, tell Jim by some other means, such as emailing him directly or forward the info to me and I will email Jim.

Upcoming contests: CQ WW SSB (Oct 26-27) and CQ WW CW (Nov 23-24). Both contests start at 0000 UTC Saturday and end 2359 UTC Sunday. Note that daylight saving time will still be in effect when the SSB portion takes place, so the start time is Friday 5:00pm and the end time Sunday 4:59pm, local time. For the CW portion, clocks will have returned to standard time, so the contest start time is Friday 4:00pm and the end time is Sunday 3:59pm.

Oceania DX Contest: A request from Don VE7DS. The CW portion of this contest takes place this weekend, beginning 0800 UTC Oct 12. The contest station VK2VB, set up by Skip VK2ALR (ex-VE3AUS, TM100VIMY team member and Don's long-time friend from university days), will be on the air, and Don asks Orca members to help boost the VK2VB QSO count. VK2VB is the callsign for the Waverley Amateur Radio Society, which is the oldest radio society in Australia.

Evening Presentation: Restoring Collins' KWM-1 Transceiver

Guy VA7GI restored a KWM-1 – works perfectly now, not only for CW but also SSB.

The presentation started off with some history. The KWM-1 was the first SSB transceiver, marketed in 1957. It was initially developed by Gene Senti W0ROW (SK) in his basement workshop and then turned into a marketable product by Collins Radio. The unit itself is quite lightweight – can't say the same for the power supply …. – and had slots to mount in a car, albeit a car of the day. An ad in QST, aimed at XYLs, showed the transceiver fitting ever so neatly into living room décor. I guess QST-subscribing OMs had to strategically leave the open magazine for their respective XYL to find?

Photos of the in-car installation and the ad can be found in "The Golden Anniversary of the Collins KWM-1" by Mike O'Brien K0MYW, which appeared in the January 2007 issue of QST (reprinted in a newsletter by the Antique Wireless Association of Southern Africa; here)




KWM-1 specs:


What made the KWM-1 special was the PTO and the accuracy and stability needed for SSB. This PTO was the industry standard for 25 years, from 1945-1970.

The KWM-1 was the first SSB HF aircraft radio. It was installed in the U-2 spy plane, in the equipment bay and thus remote from the pilot, who controlled the unit from a panel in the cockpit. The channel was preset. A photo of the control panel and a description of how to use the KWM-1 can be found on page 4-14 of the now declassified U-2 Flight Handbook.

If you like details, manuals, schematics, etc., look here. This is the Collins Radio archive.

An interesting aside came from guest May VA7MAY and I confirmed the story in several online sources. The Secret Service detail accompanying then-Vice President Richard Nixon to South America in 1958 carried a KWM-1 in a special suitcase. When screaming mobs attacked Nixon in Caracas, Venezuela, the agents used the transceiver to communicate with Washington, via phone patches, and coordinate a quick escape. Apparently, ordinary phone lines in Caracas were jammed by the crisis, preventing calls out, but the KWM-1 facilitated the immediate need for contact to Washington.

Guy restored his KWM-1 beautifully. FB indeed.

Have a lovely Thanksgiving. See you in November. QRT de VA7BEC
The Orca Report (No. 81)
Sept. 10, 2019
September 11, 2019 -- How time flies! Our summer break is over, and we are back to the regular meeting schedule at the RiverHouse... in the big room! So much more comfortable :)

We were still a smallish group -- just 18 -- but the mix was different. It was nice to see some people who aren't able to attend on a regular basis and also nice to welcome a new member to the group—Sandy VE7SFW, formerly VE4SW (yes, he picked up that callsign when VE7CT left VE4). It was a little bit of a VE4 reunion last night.

Orca DXCC is celebrating its NINTH anniversary!! and moving solidly forward into Year 10.

What happened over the summer?

PNW Traveling Trophy & PNW DX Convention
The traveling trophy is presented each year at the PNW DX Convention, which was held this year August 9-11 in Everett, Washington. The presentations were excellent, said those who were in attendance. The traveling trophy went to Willamette Valley DXC.

VE7VR
A motorcycle trip and some quality time at the cabin in VE3. Many learning opportunities re: SteppIR EHU repair and re-raising crank-up tower. Beware of ratchets! Thankfully, all OK now, both inside and outside the shack.

Note of interest: New SteppIR element technology has an Orca connection. Instead of taping/wrapping telescopic pole joints, new method uses heat shrink tubing -- prompted by idea from Don N7BT and Dick N7RO, if I recall the story correctly.

VE7IO
The VE7IO station was the QTH for a multi-multi RAC Canada Day effort, with a very commendable score. But the depth of participation from elsewhere, particularly the U.S., led to a fifth-place showing. The positive to take from this is that the contest is attracting attention and sit-in-the-chair participation not only in Canada but from outside the country as well.

Fred spearheaded an effort mostly run by members of Surrey ARC at Fort Langley in support of the Canadian National Parks on the Air project. The station operated as VC7FL and while there weren't a whole lot of Qs, it was a nice public service activity.

VE7DS and VA7QD
Don and Jeanne also participated at Fort Langley.

VE7CT
Tower prep at QTH on Denman Island is progressing.

VA7GI
Restored Collins KWM-1 transceiver.

(FYI, Collins-archived info on this collector's item is available here.)

Guy has offered to give a presentation on the restoration process at a later date.

VA7DXX
Dave made it on to the DXCC honor roll. Congrats!

VE7GL
Lots of antenna work. Ready for contest season!

In other news....

K7TRI




Tillamook Rock (NA-211) was activated by a team comprising Yuri N3QQ, Cezar VE3LYC, Sandro VE7NY and Adrian KO8SCA for a short time, September 6-9. Apparently, this rock w/lighthouse just off the Oregon coast is a most-wanted for 94% of IOTA enthusiasts. The QTH was previously activated 21 years ago. If you were one of the lucky IOTA hunters who got into the logbook -- it's tough on 20m from here due to skip -- maybe consider a donation along with the QSL request. Details on this IOTA expedition can be found here.

Interesting video (duration: 9:29) about Tillamook Rock is here. Lots of sea lions. Lots of birds. Lots of big waves.

VY0ERC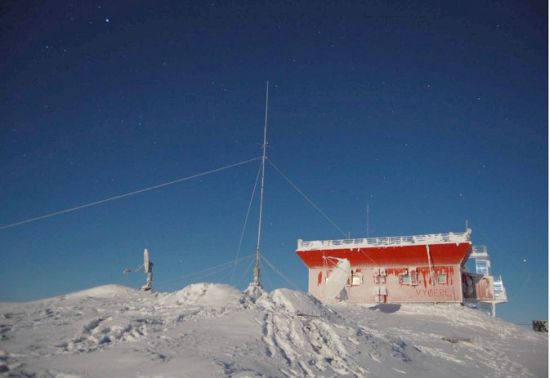 Keith VE7KW provided info on a fundraising project by the Eureka Amateur Radio Club to enhance activity on 40m and 80m.

Some background: The Eureka Amateur Radio Club is, according to the VY0ERC page on QRZ.com, probably the most northerly located amateur radio club in the world. It is based around the Eureka Weather Station on Ellesmere Island (NA-008) and operates out of the Polar Environment Atmospheric Research Laboratory RidgeLab. The RidgeLab location is actually an important detail because Eureka is in grid square EQ79 and RidgeLab, on a hill, is in EQ80, and, situated above 80N, RidgeLab is in ITU zone 75 rather than 4. Both Eureka and RidgeLab are in CQ zone 2.

Why the preoccupation with location details: In a contest, CQ zone 2 is a rarity. For grid square hunters, EQ80 is a rarity. "VY0" itself is rare.

VY0ERC is now looking to enhance its presence on 40m and 80m with a better antenna setup. The ultimate goal is phased vertical arrays for each band. A gofundme page has been set up here.

QSO Today w/4Z1UG
QSO Today is a podcast produced and created by Eric 4Z1UG, also WA6IGR. He interviews someone of interest in the amateur radio world each week. The interviews run about an hour long, and so far, Eric has chatted with hundreds of leaders and/or movers and shakers in this hobby. For the list of podcasts -- all 266 of them -- look here. Included are three Orca members: Neil VA7DX, Adam VA7OJ and Eric VA7DZ. Just click on the arrow to start the podcast of your choice.
Looking ahead

As we start our 10th year of meetings and presentations, what is on the schedule for 2019-2020? We are bound to have carefully selected video presentations of DXpeditions and IOTA activations. Many Orca members are involved in DXpeditions and/or IOTA activations. Keep in mind that Sandro VE7NY was on the Tillamook Lighthouse team, and Mike VE7ACN is often on an island west, east or north of here. In-person presentations offer us fabulous insights into these adventures in radio.

Not every presentation has to be about radio per se. The underlying technology that makes our antennas and radios work is found in a wide range of other devices and services, too, and presentations on different applications of this technology can be of great interest. Remember GPS/GNSS 101 by Adrian VE7NZ?

Or a continuation of the FT8 presentation?

So much to look forward to!

This is VA7BEC. Signing off for now.
The Orca Report (No. 80)
June 11, 2019
June 12, 2019 -- We were a group of 20 for the last meeting before our summer break. There were a few announcements and updates, a BCQP wrap-up and then a video of Dave VE7VR's amazing near-remote station setup at the top of a 25-floor condominium building.

PNW DX Convention

Western Washington DX Club is hosting the PNW DX Convention this year in Everett, WA, August 9-11. The website has all you need to know. The agenda looks great, including presentations by Joe Taylor K1JT "Beyond WSJT-X 2.0," Tamitha Skov WX6SWW "Space Weather Woman" and Mike Mertel K7IR "The SteppIR Story."

A quick check on June 12, 2019, shows are 19 Orca members (or XYLs of) in the Who's Attending list. Might be nice to join our Western Washington neighbours. Yes, yes, I know… the exchange rate is terrible for those on a limited travel and entertainment budget. But consider the possibility if you've got the time and the finances.

PNW Cup

CQ WPX CW was the last real chance for Orca to overtake the leader —Willamette Valley — for 2019. It was a long shot since all the CW-capable Willamette Valley and Western Washington contesters were also seeking big scores. In the end, Orca will come in a respectable third in the PNW Cup.

BCQP 2019

June tends to be the month for announcing BCQP results since certificates and plaque production are dependent upon having the right photos, and photo-taking is dependent upon when available time and favorable weather conditions coincide for the photo-taker (that's me, BTW). Typically, the stars align in May. Hence, results are announced in June when the certificates have been prepared and printed and the plaques are at least in production if not already done.

The BCQP Report and detailed results pages for BCQP 2019 are accessible from the BCQP section of the Orca website. I am aware that I messed up a couple of callsigns in different places in the report—W4WK should be W4KW in the score list and one instance of VA7GI appears as VA7IG. Perhaps there are more errors, so I'll wait a bit to see if anyone else contacts me. I'll make corrections and then send Webmaster Bud VA7ST a corrected version for uploading.

I'm often asked if participation is better on Saturday or Sunday, now that BCQP is a two-day event, so I'll let the numbers speak for themselves. The number-crunching section includes a Saturday vs. Sunday comparison. Please take a look. Overall, BCQP 2019 attracted a lot of interest from outside the province. Very keen for Qs with BC stations. The number of logs received from BC stations is really not indicative of how many VE7/VA7s were on the air at various times during the event. But many casual participants don't send in their logs. Maybe they didn't actually keep track of exchanges, only giving buddies some points and then shutting down the rig. Other stations, inside and outside of the province, surely would have like to have Qs with those BC stations.

2019 Report, original version
http://orcadxcc.org/content/pdf/bcqp/2019_BCQP_report.pdf

BC Results
http://orcadxcc.org/content/pdf/bcqp/2019_BCQP_results_BC.pdf

Outside BC Results
http://orcadxcc.org/content/pdf/bcqp/2019_BCQP_results_outside_BC.pdf

The awards page will be updated, too, with examples of certificates as well as the plaque for this year, but the BCQP Report includes photos used for the three kinds of certificates—top in category; top state, province except BC and DX entity; and top in district (BC only)—and the plaque photo, if you want to know now.

Quick facts from an Orca perspective—
Some stations achieved scores good enough for several certificates and/or a plaque to hang on the shack wall, a reflection of perseverance, skill and contesting experience. The sit-in-the-chair, stay-on-the-air commitment of participants with an Orca connection is what keeps the BCQP profile high. TU.

In our in-house draw for Orca members who submitted BCQP logs with at least 25 Qs, "VE7NZ," "VA7RN" and "VA7OM" were pulled from the box. Adrian VE7NZ was in attendance and selected the Liquor Store gift card. I decided for the other two: Les VA7RN will get the White Spot gift card, and VA7OM (on VE7SAR team) will get the Home Depot gift card. Congratulations!

Plaques aren't ready yet—maybe next week—and will go out by snail mail when I get them. Certificates are currently being stuffed into envelopes with repurposed cardboard to ensure the certificates don't get folded or crumped en route and should go out by Canada Post or USPS within the next couple of days. Recipients can expect something shack-worthy very soon. And for those who are getting a certificate for top score in a category of entry, you will find a small gift inside — special Post-It notes.

This year, because the level of participation from outside the province was so deep, it seemed only fair to offer certificates for top scores by category of entry in each state/other province of Canada/DX. Previously, if a particular category had at least 10 submitted logs, second and third-place certificates were awarded. But this year, most categories of entry have way more than 10 submitted logs, so a broader award structure seemed appropriate. However, these are special certificates, recognizing noteworthy results this year beyond the standard award structure. If participation levels from outside the province are this good—or better?—in 2020, the special certificates will be awarded again. If the trend can be maintained, the award rules will be revised accordingly. These special state/other province of Canada/DX certificates are similar to the top district certificates for BC stations, so the same requirement for eligibility was applied—10 valid QSOs. Not too many years ago, stations outside BC had a really tough time getting even 10 Qs. Now, operators who emphasize BCQP over the other same-weekend events and dabble in more than one mode are logging no less than 30 QSOs, and several logs show more than 60 QSOs. Who could ever have imagined such a thing possible? :)

Also of note, for BCQP 2020, Yukon will be a special guest, and YT operators will be able to work anyone anywhere, the same way BC operators do. The idea was brought to me by Allen VY1KX, an Orca member who relocated to Yukon a few years ago. The finer details of how scoring will work and the exchange that YT stations will give—there's only one electoral district but maybe "YT" will be better so as not to confuse people who are already confused by BC's federal electoral districts—are still being considered. Details will be worked out by the time the 2020 promotion bandwagon starts to roll in November 2019. At the moment, the special guest idea is a test. We'll see how things go before making changes to rules and/or logging programs.

For now, mark your calendars — Saturday/Sunday: 1600z Feb 1 - 0359z Feb 2 AND Sunday: 1600z Feb 2 - 2359z Feb 2 (That's 8am to 8pm, Feb 1 and 8am to 4pm Feb 2, PST)

Main Presentation: VE7VR's new antenna support — 25 floors up

For quite a while, Dave VE7VR had an office in a low-rise building and maintained an antenna on the roof of that building. He even operated "remote" from his home not really all that far away from the office. Great setup. But then he no longer had access to that roof. What is an avid contest/DXer to do? Put an antenna on another building, of course. A high-rise building at that.

Dave gave us a tour, via video, of the setup in his condo on the 14th floor, where he actually operates, as well as the corner of the maintenance room at the top of the 25-storey building where the rest of the equipment is secured, and then outside, on the roof itself where the vertical is positioned.

The connection between the 14th floor and the 25th floor is wireless.

Nearly every cable has a ferrite friend.

Dave has operated in several contests and no one in the building was the wiser. Seems like the setup works exceedingly well, without causing any interference. Yes! And Dave's scores have been terrific, too. :)

And that is for the June meeting. See you all again in September. Have a good summer. QRT de VA7BEC
The Orca Report (No. 79)
May 14, 2019
May 20, 2019 -- Sorry for the delay. It might seem that the monthly writeup on Orca meetings went the way of the dinosaurs. Actually, your Orca Report writer has just been been wearing too many hats lately, and production of the Orca Report slipped down in priority on the to-do list.

Just FYI, the February meeting was cancelled due to a sudden and considerable dump of snow in the Metro Vancouver area, so there was no Orca Report that month. In April, your reporter was unable to make the meeting, so there was no Orca Report, but the guest speaker was Alex VE7ADA (formerly, IZ7FMM) who, I'm told, talked about antennas for use on DXpeditions.

And now for the May recap… The content has been expanded—there's always more info in the report than was talked about on-site—so I hope you will find this writeup worth the wait.

Canadian National Parks on the Air 2019: Operations from Fort Langley in July/August 2019

Four years ago, ARRL ran a National Parks on the Air event. It was tremendously popular. A small group of enthusiastic amateurs in Halifax, NS, thought a similar event was worth doing in Canada. After all, this is a vast and beautiful land with so many majestic parks and significant historical sites to showcase. For this project, however, the locations must fall under Canada Parks jurisdiction, which translates to 48 national parks and 172 national historic sites.

The project has a zero-dollar budget—thank goodness for those whose enthusiasm for amateur radio fuels the spirit to volunteer time, effort and know-how!—but no formal partnership with any organization. It does, however, have non-dollar support from Parks Canada and Radio Amateurs of Canada, and is proving popular with more than 1,000 logs successfully uploaded to the CNPOTA website as of May 12, 2019.

Anyone with an amateur radio license can be an activator and operate from a Canadian park or historical site. That is, someone from BC can operate from a Parks Canada-managed park in BC or in any other province or territory, and vice-versa. In addition, a visiting licensed amateur to Canada from anywhere else in the world can operate in one of these parks or at a historical site on the list (see "Parks Lookup" on the CNPOTA website). And, of course, anyone can be a chaser.

Marcy VE7JT got permission for interested amateurs to work from Fort Langley. Fred VE7IO is the trustee for this operation. The special event callsign will be VC7FL, and it will be available for use through the months of July and August 2019. Any licensed amateur can set up at the site, but be aware that some areas might be off-limits and setup can't interfere with regular visitor activities at the site. Think of it as a "fort-ified" Field Day.

If you would like to operate at Fort Langley, whether for just a couple of hours or a whole day or several times during the two-month run, please contact Fred to be put into the schedule.

A very interesting interview (about 10 minutes) with Doug VE1DFG talking to Judy Ludlow on CBC provides some background to this project: how it got started, who's involved, who can be involved, the perks, the rewards, the process, etc.

The event is also featured in the May/June issue of "The Canadian Amateur" magazine.

A website for Canadian National Parks on the Air 2019 is up-and-running with background and updates, and a very comprehensive FAQ page. If anyone is interested in participating at Fort Langley or any other park or historical site on the list, it would be a good idea to check the FAQ page for an idea on rules re: activation/operation. The goal is to promote Canada's national parks and historical sites to the world but, as with any organized event, there are rules and procedures re: logs and exchange. Best to know before setting up, yes? Go direct to rules here.

PNW Cup

Jim VE7FO provided an update on PNW Cup scores and club status. Orca sits at a rather distant third (20.8 million), behind Willamette Valley, at 52.4 million, and Western Washington, at 40.4 million. Unless every CW-capable Orca member gets on the air for the CW portion of CQ WPX— coming up May 25-26—and builds a significant score, we are unlikely to pull ahead of the leader. That said, WPX is one of the best contests for racking up points since it's an anyone-anywhere kind of contest with worldwide participation, so big scores are certainly possible.

PNW DX Convention

Western Washington DX Club is hosting the PNW DX Convention this year in Everett, WA, August 9-11. The website has all you need to know. The agenda looks great, including presentations by Joe Taylor K1JT "Beyond WSJT-X 2.0," Tamitha Skov WX6SWW "Space Weather Woman" and Mike Mertel K7IR "The SteppIR Story."

Orca Membership

Renewal is at 90%. Always looking to welcome new members, too.

BCQP 2019

The logs have been checked, the results are tabulated, the report is 99% finished, the photos for plaques and certificates have been taken… now comes the production stage. Results will be officially announced at the June meeting. I'll hand out certificates for sure and most likely plaques, depending on how fast they get made, to Orca members who captured a tangible reward and are in attendance. As is generally the case, participation by Orca members contributed the most to on-air activity and, accordingly, Orca members snapped up most of the available plaques and certificates. There will be some extra certificates, though, reflecting the incredible level of participation from outside the province. We'll also do the in-club draw for gift cards.

www.CQWW.com

In this age of on-demand services, you can download CQ WW certificates from the CQWW website. Simply go to www.CQWW.com and enter your callsign in the field. You'll get a list of results associated with that callsign for every year of participation going back eons and a link to any applicable certificates.

Feature Presentation: GPS/GNSS 101 by Adrian VE7NZ

What is GPS? How does it work? What is GNSS? What are the applications, now and in the future?

Adrian VE7NZ provided a very thorough explanation using terminology and examples that even those who might zone out when things get too technical—me?— could understand.

GPS is one of those ubiquitous acronyms that everyone has come across, and everyone except maybe those who avoid technology at all costs uses the inherent GPS technology directly or indirectly, perhaps without even realizing it. What most of us are familiar with is the GPS that guides us to that key destination in a never-before-travelled-to city or shows us our position in the middle of nowhere. But there's more. Global positioning system applications include tracking (monitoring the movement of an object or a person), mapping (creating maps of the world) and timing (delivering precise timing worldwide). GPS is used not only by the ordinary citizen to navigate from point A to point B but also by industry, including mining, aviation, surveying, agriculture and marine, and by the military.

But what is GPS exactly?

GPS is a radio navigation system that allows users on land and sea and in the air to determine exact location, velocity, and time 24 hours a day, in all weather conditions, anywhere in the world. The capabilities of today's system render other well-known navigation and positioning technologies—that is, the magnetic compass, the sextant, the chronometer, and radio-based devices—impractical and obsolete. For the amateur radio world, GPS is the only source of precise time if operating without Internet access.

There are currently 31 GPS satellites moving in 12-hour orbits approximately 20,200km above the earth. The satellites are actually the simple part of the GPS equation. The complicated stuff happens in the receiver inside a commercial device, like a smartphone or a navigation system. The satellites are spaced so that four will always be above the horizon from any point on the earth. Each satellite is equipped with a computer, an atomic clock and a radio, broadcasting a message that includes current position, orbit and exact time. On the ground, a GPS receiver uses the information to triangulate an exact position. Three satellites are enough to provide location but four will generate a more accurate position, often within a few meters. If the receiver is also equipped with a screen that shows a map, like most smartphones, the position will appear on that map. A fourth satellite will generate data on altitude as well as geographic position. If you are moving, your receiver may also be able to calculate your speed and direction of travel and give you an estimated time of arrival to a specified destination.

Most GPS devices use some kind of location caching to speed up GPS detection. If you haven't gone anywhere far, this is not a problem and will certainly enable your receiver to quickly determine which satellites will be available the next time it scans for a GPS signal. But if you've traveled somewhere by plane, particularly to the other side of the globe, and/or switched to airplane mode, when you turn on your device again, the receiver will be looking for satellites that are no longer in the places they are expected to be. It will take anywhere from a few seconds to a few minutes to acquire a connection to the necessary number of satellites in your new QTH.

By the way, the GPS project was launched by the United States. The system is made available by the U.S. government, which can selectively deny access or limit service at any time. Consequently, several countries have developed or are in the process of developing their own global or regional satellite navigation systems. Global systems: the 24-satellite Russian Global Navigation Satellite System (GLONASS), the European Union's 22-satellite Galileo positioning system and China's 33-satellite BeiDou Navigation Satellite System. Regional systems: India's NAVIC and Japan's Quasi-Zenith Satellite System, a GPS satellite-based augmentation system used to enhance GPS's accuracy. Systems can be added to GPS devices to make more satellites available and facilitate faster and more accurate positioning. We here in North America are probably using both GPS and GLONASS.

Adrian also touched on the inevitable proliferation of self-driving cars, which also use GPS and GNSS (global navigation satellite system) technology. Autonomous driving is no longer the stuff of science fiction. Already, we have semi-autonomous features, such as assisted parking and self-braking systems, as well as cruise control. For cars to be completely autonomous, though, they require highly accurate positioning, not just within meters but within decimeters or less, and integrated sensor information from various sources, such as radar and lidar (light detection and ranging) and cameras, because bad weather, such as snow, fog, rain or sandstorms, and a lack of reference data—think unmarked lanes—will, well, confuse the driver, that is, the car. The trick is to create real-time sensor fusion that blends the best information from each system and ignores the rest. GPS/GNSS solves the weather issues but has to be increasingly more precise with positioning data and, increasingly, it is becoming so.

I guess, potentially, this means that one day enthusiastic BCQP participants be able to do a no-stop mobile BCQP operation sitting in the back of the truck with the equipment and call CQ while the car navigates itself over snow-covered streets. Yes?

And that's it for May. QRT de VA7BEC
The Orca Report (No. 78)
March 12, 2019
March 13, 2019 -- HThe February meeting was cancelled due to the sudden and considerable dump of snow we got here in the Metro Vancouver area. Daytime driving was doable for people who are familiar with snow, ice and slush and have the proper tires. But with spring seemingly around the corner, many people – not necessarily Orca members, of course – changed back to all-season/weather or summer tires, and the roads were not necessarily a safe place to be, certainly not at night when temperatures dropped. And so, the February meeting was cancelled.

Last night, the temps were low but not freezing and there was no precipitation of any sort in sight. A medium-sized group of 21 gathered at the RiverHouse for a very interesting agenda.

First, some admin.

Membership: Orca DXCC membership dues are, well, due. About 60% of the club has paid up for 2019. If you haven't paid, you have several options: PayPal, cheque/check payable to Orca DX and Contest Club, or Interac email money transfer for anyone in Canada who uses online banking. Go to the membership page of the Orca website for further details. Just $24.

PNW Cup scores: Orca DXCC is probably in third place, behind Willamette Valley and Western Washington, but all scores might not have been included in the current tally. Spreadsheet minder Jim VE7FO collects data from 3830, so if you haven't uploaded your score to that site, Jim won't have the numbers.

BCQP 2019: Preliminary Results

BCQP 2019 was well-attended and, by all accounts, it was fun despite challenging conditions. The number-crunching is yet to come but here are a few details that I can disclose now, based on the content of logs received. (Yes, I go through each log to confirm claimed score. In the process, I glean info on callsigns and districts, spot potentially busted/unique callsigns, identify trends in input errors, etc. This info is used later for number-crunching and as a basis for creating helpful hints and devising new operating strategies for future years.)

Breaking a million points was certainly a possibility. Some years ago, at the sponsor station, we got well into the 900,000s, and that was before Sunday hours were added.

The benefit of sending out confirmation emails when people send in a log is that participants realize there's a person looking at the logs, not a robot. While a robot and log-checking software facilitate log submission and scoring, interesting perspectives can be missed. Like the guy who had only one Q in his log and was "damn proud of it". Obviously, it was a memorable Q for a particular reason but he didn't elaborate on that reason. And for the first time ever – EVER! – someone wished they had heard more VE7s on SSB. On phone!!? Usually, the complaint is that there are no CW ops to contact. And someone said that using electoral districts as multipliers was a great idea. A great idea!!? Most of the time, the comment is that no one knows what an electoral district is, that even BC operators – probably the casual, non-contester types – don't know their own district. And had I not visually scanned logs and emails, I would have missed the entry for "Created by" being "My fat fingers" rather than the typical "N1MM" or "N3FJP", and a log attached to an email sent by "shoe phone" not "iPhone". Ahh, yes, memories of Get Smart...

Look at 3830 for many BCQP (claimed) scores and participant comments. Of course, not everyone who sent in a log or even gave out some casual Qs posts to 3830, but there are lots of interesting comments there.

Official results will be announced in late May or early June, after I've written the special after-party report and prepared photos for certificates and plaques.

Evening Presentation: Mike VE7ACN on IOTA adventure in Gulf of St. Lawrence

Driven by the need for good pileups, like at his contest station in Russia (RT0C), Mike has ventured to many islands where IOTA hunters keep him in solid pileup mode. When he ran out of islands of interest in BC, he began traveling further afield, including Alaska and out east. Tonight, Mike talked about his trip to Iles-de-la-Madeleine, specifically, Havre Aubert Island, and then Harrington Harbor, both in the province of Quebec, in April 2018.

It was springtime, by the calendar, but winter had not given up its grasp on these islands in the Gulf of St. Lawrence. Digging 32 radials out from under a deep blanket of white on the last day on Iles-de-la-Madeleine was cold and time-consuming, but necessary for the next stop. Wind made the Spiderbeam mast look like a fly-fishing rod or move like a belly dancer. Taking sections out helped solve that problem at both locations.

Overall, 6,010 QSOs total on CW and SSB at Iles-de-la-Madeleine and 6,611 QSOs total at Harrington Island. And a lot of happy IOTA hunters near and far.

Iles-de-la-Madeleine is an archipelago of seven inhabited islands. Some photos and background about Havre Aubert are here

Harrington Harbor is essentially a big granite rock, and a network of boardwalks crisscrosses through the community, connecting houses, businesses and places of interest to visitors. Take a look here

Mike's IOTA adventures appear to be fun and rewarding from an operating perspective as well as a travel perspective. But the level of success is undoubtedly dependent on the amount of planning and preparation that goes into the idea, and perhaps some Plan B and Plan C thinking, too, just in case plan A gets derailed. The commentary and photos from his VE2 trip attest to what happens when the weather turns, since wind, rain, snow and ice can create unexpected problems, from delays in travel to power outages to antenna challenges. Sometimes, too, satellite maps don't provide a particularly accurate picture of the location, or areas that appear open and clear on Google Maps aren't so open and clear when there's snow on the ground and the locals are no-roads-bound on snowmobiles.

So regardless of how much planning and preparations go into a travel-and-radio adventure, success often depends on a fine-tuned ability to adapt to circumstances. Alternatives must be considered with regard to vertical setup, laying of coax and placement of radials, and Mike obviously has a deep reservoir of experience and insight as well as the enthusiasm and resolve to tackle any issue. The photos, most taken by XYL Natasha, and commentary demonstrate how well Mike deals with whatever happens.

No presentation by Mike would be complete without trivia or off-the-beaten-track info that is only learned by being there, or knowing someone who has done the traveling. So we benefit from all angles of an IOTA activation, from getting there to setting up to operating and sweeping the pileups and then counting up the Qs, in addition to the sightseeing aspect. Beautiful beaches adjacent to red-rock cliffs. Brightly painted houses and boats, too.

And the next trip? Back out east this summer. And we can't wait to hear the stories and see the pictures.

Don't forget about WPX contests coming up: SSB at the end of March and CW in May. These are contests where prefixes are the multipliers so it's easy to build a big log. Help put Orca DXCC back into contention in the PNW Cup race.

And the Orca lunch… fourth Wednesday of the month. Ken VE7BC will send out reminder emails close to lunch day.

This is VA7BEC. QRT.
The Orca Report (No. 77)
January 8, 2019
January 8, 2019 -- Happy New Year! Hope the year has started out well for everyone. We were a group of 23 for the first meeting of 2019 and covered the usual January topics plus a few updates and extras.

Membership Dues

If you haven't paid your membership dues, you have several options: PayPal, cheque/check payable to Orca DX and Contest Club, or Interac email money transfer for anyone in Canada who uses online banking. Go to the membership page of the Orca website for further details. Just $24.

BCQP 2019: February 2, local time, 8am to 8pm AND February 3, 8am to 4pm

Less than a month to BCQP 2019 -- Feb 2-3, local time. As last year, the event will run in two blocks: the core 12 hours (8am - 8pm block on Saturday, Feb 2), and eight hours on Sunday, Feb 3 (8am and goes until 4pm).

In contestese, that's 1600z Feb 2 to 0359 Feb 3 AND 1600z to 2359 Feb 3

Work as much of the 20 hours as you like on whichever mode(s) you like. There is no required off-time, except for the gap between the two blocks (0400z and 1600z on February 3). The blocks are not mode-designated, although CW operators may find Sunday less frustrating because NA Sprint CW participants won't be pushing you off a run frequency between 0000z to 0359z Feb 3.

FT8 was an idea for BCQP 2019. Unfortunately, despite the solid popularity of this digital mode, the software just isn't compatible with the BCQP format at the current time. Maybe next year, if the program writers create a version that allows operators to specify "BCQP" and enter the required exchange content.

The plaque program again has 10 sponsored categories. Some plaques are limited in scope—the YL plaque, for instance, will only go to a YL; the top US plaque is not available to anyone outside the US; and a top mode plaque will only be awarded to a station running that particular mode but geographically, the station could be anywhere. Some categories are up for grabs by anyone anywhere, such as Most Federal Electoral Districts Contacted.

Many of the get-on-the-air, stay-in-the-chair operators in BCQP are Orca members. You keep the profile high and make this club-sponsored event increasingly popular and fun for operators near and far. I thank you in advance for your continued participation.

There is NO OTHER EVENT like BCQP for BC operators. It puts BC in a spotlight, when much of the province is typically in a black hole, and the number of tangible – and rather nice-for-the-shack-wall – rewards are very easy for BC stations to capture than in any other on-air event. Not only are there top-category-of-entry certificates, there are also top district certificates. Some districts rarely get activated or the lone operator gets on the air to give buddies a few points but doesn't stay on the air or send in a log. So if you know someone who is sort of interested, give them a nudge. A big nudge.

The success and fun factor of BCQP is highly dependent upon BC stations. The party won't happen without VE7s and VA7s calling CQ. BC stations can contact anyone anywhere so it's tremendously easy to have a pileup – slow rate, maybe, but a constant stream of contacts for sure. However, stations outside BC are limited to QSOs with BC stations. They won't have any fun at all if the pool of BC stations dries up too fast. So please spread the word and get your friends and their friends on the air, too. Use the handy one-page invitation, if you like, to entice them to participate.

And remember, Orca members who make at least 25 QSOs and submit a log will be eligible for our in-club draw for $25 gift cards. Typically, three names are drawn.

If you or people you know have questions, go to the BCQP homepage on our Orca DXCC website. You will find all sorts of information, from rules and FAQ to past years' analyses and awards. If something still needs clarification, I am just an email away. Use my rac address.

Annual General Meeting

There are a couple of changes to the club executive roster. Brian VE7JKZ has taken on the role of director for South Island, and Ralph VE7XF has relinquished his position as director for Greater Vancouver - Fraser Valley, leaving this spot open. If anyone in the Greater Vancouver - Fraser Valley area would like to fill Ralph's shoes, please contact Dave VE7VR.



3Y0Z: Refunds of unused DXpedition Funds

About this time last year, the Bouvet DXpedition was on its way to activate what would surely be an ATNO for many DXing enthusiasts. Unfortunately, after many days at sea and Bouvet finally in sight, the ship's captain felt a damaged engine posed too much of a safety risk and aborted the DXpedition.

In a press release, dated January 7, 2019, 3Y0Z co-leader and chief financial officer Bob K4UEE described options and instructions for refunds of unused DXpedition funds. After all the bills were paid and equipment sold to raise funds, the team was in the black, and an offer to refund a portion of donations was announced. Four options were presented -- refund the donation-originating person/organization or direct the refund elsewhere, specifically, to the 3Y0Z team, to NCDXF or INDEXA.

Orca DXCC made a significant donation. After a bit of discussion, those in attendance agreed that the club's donation should go to the 3Y0Z team.

Evening Presentation: QRZ.com and Elecraft interviews

QRZ.com and Elecraft recently celebrated milestone anniversaries: 25 years for QRZ and 20 years for Elecraft. In this installment of HamNation, the first segment showcases QRZ Founder Fred Lloyd (AA7BQ), who talks about the early days of the site, and the second segment highlights Elecraft, with co-founders Eric Schwartz (WA6HHQ) and Wayne Burdick (N6KR) talking about how the company got started. The link is here.

And that's it for now. Hope to see you in BCQP 2019. QRT de VA7BEC

Postscript: I saw in the Jan/Feb 2019 issue of The Canadian Amateur, that Gabor VE7JH has been selected as RAC Amateur of the Year for 2018 by the RAC Board of Directors. Congratulations Gabor!!

Another wonderful example of the tremendous contributions that members of Orca DXCC make to the world of amateur radio.
The Orca Report (No. 76)
December 14, 2018
December 14, 2018 -- The December meeting is always a time for Orca members and significant others to get together. We shifted to a Wednesday instead of our regular Tuesday to accommodate the restaurant and were rewarded with the big diningroom. Much more spacious and easier to get around to chat with people at other tables. We were a group of 26. Lovely to see some people who are usually off traveling or have relocated to a QTH that is not within an easy commute to the RiverHouse. But a number of regular attendees were not present. Maybe it was due to Wednesday shift? We missed you!

Since this was a very casual evening, there were no announcements and no presentations. But I heard snippits of conversations at other tables that included the recent DXpedition of Sandro VE7NY, Steve VE7CT and Ralph VE7XF in St. Vincent as J8NY, the upcoming BCQP (February 2-3, 2019), contesting, DX, CONDX and, of course, the weather.

Enjoy all the holiday-inspired activities that make December special. Be well. Be warm. All the best for 2019.

QRT de VA7BEC

The Orca Report (No. 75)
November 13, 2018
November 13, 2018 -- We were a group of 24 and again relegated to the small room. It was very, very cozy. Here's hoping that we'll have the big room for our December bash, as it will be the Christmas gathering and significant others are invited, too, which will boost the attendance count.

Despite the cramped quarters, it was an enjoyable meeting with lots of info and updates.

Welcome!

A couple new members were in attendance: Adrian VE7NZ and Dave W7DEQ.

Congratulations!

Keith VE7KW is the new RAC Regional Director for BC.

Contests, etc.

Scores in the CQ WW contests count toward participating club totals in the traveling PNW Cup. The SSB portion took place at the end of October, and it was tough. Check out 3830 and you'll see how Orca members fared. President Dave VE7VR worked the contest as VC3R from his cabin in Ontario and achieved a bigger EU percentage than we on the West Coast did. However, the overall Q count was down from previous years and NA represented a significant percentage of the Q total.

On the PNW Cup front, Willamette Valley, at 9.1 million, has a huge lead, followed by Orca, at 4.6 million. Western Washington hasn't sent scores to the scoreminder, so it's possible that the club is in third spot, maybe second? Spokane sits at 1 million and Idaho at 632,000.

CQ WW CW will take place over the November 24-25 weekend, beginning on Friday, November 23, at 4pm local time. Good luck to everyone tapping out "CQ".

Sandro VE7NY, Steve VE7CT and Ralph VE7XF will be in St. Vincent for CQ WW CW, so listen for them as J8NY.

Still on the CQ WW/DXpedition theme, Dave VA7AM was at PJ2T for the SSB portion and provided a video, created by Stan VE3TW, of the activity during the contest weekend and the prep before. Check it out here.

Question: How do we encourage interest in amateur radio from young people?

The question arose from a "DX, DX-ing and DXpedition" presentation that Dave VE7VR gave at the Discover Amateur Radio Seminar organized by the Richmond Amateur Radio Club on November 10, 2018. Most of the people in the room were retirement-age or older.

What can we do to attract younger people to the hobby and, once interested, get on the air? Or more to the point, how can newcomers to the hobby—and apparently, BC has the highest number of new ticketholders in Canada by population density—be enticed into DX-hunting and contesting?

Answers from our group highlighted the importance of elmering.

Many local clubs offer courses, and the passing rate seems to be quite high. But once these new hams are licensed, they don't pursue HF and associated DX-hunting, DXpeditions or contesting all that much. Whether they don't know or aren't interested in this aspect of the hobby or simply haven't got the time, who knows? But maybe inviting a newly licensed individual to a contest station to see how much fun contesting can be… that might encourage greater activity.

Getting kids interested… absolutely. Jamboree on the Air can be a spark. Not necessarily the CW spark, but a way to kindle active interest that leads a young person to get licensed and participate in more than just a one-time event. Some local clubs have found tremendous interest from the scouts. Others have seen interest fizzle.

I'd say, get everyone—old and young—in front of a radio for BCQP. Let them watch and listen to experienced operators and then let them have a go on their own. If they call CQ, they will get responses. The more responses they get, the more fun they'll have. And. They. Will. Be. Hooked. Definitely.

BCQP 2019

Past plaque sponsors have been contacted and all will sponsor plaques again. The sponsored categories are Top BC (single-op), Top BC (multi-op), Top CW, Top Mixed Mode, Top YL, Top US, Top Canada Outside BC, Top DX, Top Club, Most Districts Contacted.

The idea to include FT8 remains just an idea. The software is not yet ready to accommodate the BCQP exchange, and there are too many logistical issues that preclude the inclusion of FT8 in accepted modes for 2019. Maybe in 2020. It all depends on whether the program will allow operators to send/receive and record the required exchange for BCQP.

It is true that some QSO parties allow FT8 and don't really care about the exchange. But then how can QSOs be acknowledged and logs properly scored? And how can we distinguish between BCQP and other QSO parties and other on-air events taking place on the same day/weekend?

The promotion bandwagon is rolling out, beginning with clubs in BC.

Evening Presentation: WRTC

The World Radiosport Team Championship (WRTC) is the Olympics for radio amateurs. It's an invitation-only event that takes place every four years, drawing the world's best operators, selected regionally, to compete from the same general location rather than their home stations to create a level playing field. The inaugural event was held in Seattle, in 1990, and the most recent event unfolded in Wittenberg, Germany, this past summer. The next WRTC will be in the Emilia-Romagna region of Italy, in 2022.

The WRTC website is filled with information, including history and a photo gallery. Peruse the photos and you're sure to spot someone you know, including some Orca members!

There are lots of WRTC-themed YouTube videos. We saw three:

WRTC 2018
In German with English subtitles. Interestingly, this clip features many moments with the Canadian team of Lee VE7CC and Dale VE7SV

DX Engineering with K3LR and N6MJ
A DX Engineering interview with Dan Craig, N6MJ by Tim Duffy, K3LR. Dan teamed up with Chris, KL9A during the 2014 WRTC in Boston where they won first place.

WRTC 2022 in Italy
Sort of a travelogue, foodie, radio montage of Italy as a promo video for WRTC 2022.

And that's it for the November meeting. Until next time, this is VA7BEC, QRT.
The Orca Report (No. 74)
October 9, 2018
October 9, 2018 -- We were a group of 17 and relegated to the small room. While membership remains high, the number of people at RiverHouse meetings has dwindled since some core members moved away. We miss you!

Contest Season

CQWW RTTY took place at the end of September, and Orca is in the top three in the PNW Cup competition. Some of the clubs haven't submitted scores yet and some Orca members' scores haven't been included in the spreadsheet minder's tally.

CQWW SSB is coming up the last full weekend of October and then the CW portion in November. Several Orca members will be DX for these contests. Dave VA7AM will be at PJ2T for the SSB portion and J8NY (DXpedition to St. Vincent with a team that includes Sandro VE7NY, Steve VE7CT and and Ralph VE7XF) will be active before, during and after the CW portion.

BCQP 2019

Plaque sponsors will be contacted this month to confirm continued interest, and the regular PR bandwagon will roll out in November. Consideration is being given to the addition of FT8 as an accepted mode in BCQP 2019, pending a suitable way to send/receive and record the required exchange.

Evening Presentation: FT8 Night

As described in the September issue of The Orca Report (No.72), FT8 is a digital mode taking the radio world by storm. It is extremely easy to use, once the software is properly set up, and can facilitate DX QSOs with minimal power and a very basic antenna setup. Given current CONDX, this approach to on-air activity presents tremendous potential.

Koji VA7KO and Don N7BT teamed up for a a more in-depth presentation of FT8, and had there been more time, an on-air demo would have been attempted. The whip antenna was set up on the RiverHouse balcony and, in fact, Koji ran as VA7ODX—the Orca callsign—during dinner and made a few Qs, including a KH6.

If you like a ragchewing and chats about radio setup, the weather and vacations, then FT8 is not for you. But if you want a quick QSO, especially for a 6m gridsquare hunting or DX, then FT8 is the mode for you during these difficult CONDX days.

Koji started the presentation with some background about how he got started – an email from Don who asked last summer—that is, 2017—"What are you doing up on 6m RTTY?" and encouraged him try FT8 and work the world. And he did.

Many others have jumped onto the FT8 wagon, as well, with incredible results. Dick N7RO has made 18,000-some Qs since he started with FT8. 18,000!!!!! And 165 DX entities!!!! Amazing.

WSJT-X, the software used for FT8, is ever-evolving. It is now at 2.0 (beta-level release) and features some contest capability. The developers are really working hard on this, so FT8 may become a viable contest mode in more and more contests.

It is also moving into DXpedition territory, kicked off by the KH1/KH7Z team on Baker Island this past summer. For this DXpedition, the team put out very detailed instructions on how to work KH1/KH7Z using the FT8 DXpedition submode. Obviously, FT8 was welcomed by the DXing world. According to post-DXpedition statistics, FT8 generated 16,671 Qs and left RTTY, at just 931 Qs, way back in the dust. Check out all the statistics here. You'll see that FT8 enabled many people around the world to get into the log—and they probably did not have enormous antenna farms.

Indeed, one of the key advantages of FT8 is that you don't need huge power or fancy rigs and antennas. Koji set up a whip antenna on the RiverHouse balcony, and it worked just fine.



Koji showed a couple of videos, one that describes the sound card interface and one on how to get started with WSJT-X.

1. Sound card interface Ham Nation #145 / Randy K7AGE
https://www.youtube.com/watch?time_continue=5&v=dg6aPx3l0ro

2. FT8 Quick Start / Cliff N4CCB
https://www.youtube.com/watch?v=jQWqNJLRM6Q

With FT8's growing popularity, YouTube is filled with how-to videos, and many fans of the mode have written getting-started tips. Just google "FT8" or "WSJT-X" to find something applicable to your needs (at-home, away-from-home, minimal antenna setup, power restrictions, etc).

Don recommends downloading JT Alert, a separate software program but very useful not only for alerts, obviously, to a needed band, gridsquare, country, or DX, but also for logging. He also stressed the importance of keeping ALC low—actually, zero-ish—and don't let it fluctuate!! And Koji emphasizes the need to ensure your system clock is set accurately before starting any FT8 activity. FT8 cycles are just 15 seconds, of which 12.6 seconds are for transmit, 0.5-1 second is for decode and sync, and the rest is left up to you to make a response.

Surprisingly, there is so much to say about FT8. One evening and one Orca Report are not sufficient to cover everything. In fact, Koji was keen have Don do a demonstration using the VA7ODX callsign and to have Orca members in attendance get a feel for WSJT-X with elmers right there to lend a hand, but… we ran out of time. Perhaps we'll schedule another FT8 night. Stay tuned for more on this topic.

This is Rebecca VA7BEC. QRT
The Orca Report (No. 73)
September 11, 2018
September 11, 2018 -- The summer break is over. Contesting season is coming up. Orca DXCC is celebrating its EIGHTH anniversary!! And we had a very interesting meeting.

We were a group of 28 tonight, many people undoubtedly out to acknowledge the honour bestowed upon Don VE7DS and Keith VE7KW—co-recipients of the RAC Amateur of the Year Award for 2017. More about this later.

First, let's backtrack to the PNW Convention.

The convention took place over the BC Day long weekend at the Inn at the Quay, in New Westminster, BC. There was well over 100 people attending. The presentations were excellent—very high caliber, interesting content—and the speakers held everyone's attention. In the past, Orca captured the traveling PNW Cup several years running but has not placed in the winning spot for a few years, mainly due to the fact that several key contributors have not been able to get on the air. Perhaps circumstances will change for next year?

In other regular news… BCQP 2019 is only five months away. The promotion bandwagon will start to roll in November, with confirmation of plaque sponsors set for October. Contest season is beginning, kicking off with CQWW RTTY the last weekend of September and then the SSB version in October.

Evening Presentation: VE7DS and VE7KW—Co-recipients of RAC Amateur of the Year 2017

As some background, the Radio Amateur of the Year Award was created by the Canadian Radio Relay League, which merged with the Canadian Amateur Radio Federation in 1993 to form Radio Amateurs of Canada. The award is not necessarily given out every year and in fact has only been presented 23 times since 1976. To qualify, an individual should have made an outstanding contribution to amateur radio. Nominations are submitted and the winning candidate is selected by a majority vote of the RAC Board of Directors. Only two other BC operators have received this award: Doug Lockhart VE7APU in 1984 and Ian Procyk VE7HHS, in 2004. The award has never been shared before.

Al Munnik VA7MP, RAC director for BC/YT, made the formal presentation, with assistance from Ed Frazer VE7EF, former RAC director for BC/YT.

As we know from talks that Don and Keith gave at Orca meetings, the VE100VIMY project grew from an idea Don voiced to table-mates at an Orca meeting in 2011. Then came lots of planning, organizing, government meetings, trips to France and finally, getting on the air. It was not necessarily a smooth process. As with every project, there were challenges. But perseverance, a lot of background support and maybe a little bit of good timing culminated in a memorable event not only for amateur radio but also for Canada as a whole, spreading awareness of the Battle of Vimy Ridge and this turning point in Canada's history as a nation.

Don mentioned support from many, many people—an army of support. Before the 14-member team put TM100VIMY on the air—yes, French prefix on the callsign because even though the Vimy Memorial is on land ceded by France to Canada, the airwaves belong to France—a coast-to-coast-to-coast effort within Canada put VE100VIMY on the air. For a week at a time, operators in each province and territory called "VE100VIMY/(VE_), starting with VE1 and moving westward, with more than 38,000 QSOs in the consolidated log by the end of March 2017. Between March 31 and April 9, another 9,200-some QSOs, under TM100VIMY, were made with stations all around the world.

The team had 14 operators, eight of whom are members of Orca. But we can't forget the QSL manager—Dick N7RO—also a member of Orca for an amazing job dealing with the deluge of QSL requests.



Orca members on the TM100VIMY team: (back, from left) Phil VE7YBH, Dave VA7AM, Don VE7DS, Keith VE7KW, Ralph VE7OM (front, from left) Jeanne VA7QD, Christine VA7NLF (not pictured: Gabor VE7JH)

Secondary Presentation: Video of 7J1RL Okino Torishima DXpedition




Back before computer-logging and the ubiquitous Internet… Ten Japanese operators put Okino Torishima on the air. At the time of the DXpedition, the coral atoll was more or less submerged, with concrete blocks placed as the foundation for a lighthouse and meteorological station that never got built only just above the water even at low tide.

Scaffolding was set up on these blocks, and the operators sat above the waves from May 30 to June 2, 1976, and worked the world: 8,931 stations in 73 DXCC countries.

As with every DXpedition, there were challenges, including bad weather and rough seas, at least to get to the atoll. Luckily, the weather was relatively calm during activation.

Interesting to see and compare with more recent DXpeditions to remote islands. Technology certainly has come a long way.

The English-language video, which we watched tonight, can be viewed online here

This is VA7BEC, QRT.
The Orca Report (No. 72)
June 12, 2018
June 13, 2018 -- We were a group of 20 for the June meeting.

PNW DX Convention

To repeat last month's note about the convention...

The event website has everything you need to know about the program and who's attending, as well as details on the hotel. This year's agenda looks great. Please visit the convention website at http://pacificnwdxconvention.com to register and peruse agenda details.

This site will also provide you with accommodation info. Note that if you go to the hotel site to make a reservation, you might see that there aren't any rooms available. But that's because a big block of rooms has been set aside people attending the convention. Also, the regular accommodation rates look atrociously expensive. But rates have been discounted for convention attendees. Don't use the hotel's online booking page. Instead, phone or email the reservations desk, and mention that you're attending the DX convention so that you get the discounted rate.

If you're still not sure about whether the convention is worthwhile or not, consider... BCQP 2018: Results announced

For those of you who have eagerly awaited the announcement of BCQP results, sorry for the wait. Before results could be announced, the detailed report had to be finalized and photos for certificates and plaques had to be taken. The report and scores — separate sheets for BC and outside BC — are now accessible from the BCQP section of the Orca website.

2018 Report http://orcadxcc.org/content/pdf/bcqp/2018_BCQP_report.pdf

BC Results http://orcadxcc.org/content/pdf/bcqp/2018_BCQP_results_BC.pdf

Outside BC Results http://orcadxcc.org/content/pdf/bcqp/2018_BCQP_results_outside_BC.pdf

Awards page
http://orcadxcc.org/bcqp_awards.html

Quick facts from an Orca perspective —

26 Orca members were on the air Orca members captured 7 out of 10 plaques: Top BC single (VA7FC) and multi-op (VA7NF), Top YL (VA7VF), Top Canada outside BC (VY1KX), Top Mixed Mode (VE7JH), Top CW (VE7DDG), Top Club 9 top scores in categories of entry
In BC: SOLP CW (VE7DDG), SOLP MIXED (VE7JH), SOHP CW (VA7ST), SOHP SSB (VA7FC), SOHP MIXED (VE7BC), MOHP MIXED (VA7NF)
Outside BC: SO QRP MIXED (VY1KX), SOLP MIXED (N7RO), SOHP CW (AG6V) 11 top scores in activated districts: BNS (VE7ACN), BUS (VE7VR), CML (VE7JH), COA (VA7FC), CPC (VE7SCC – VE7ADA, VA7NR), KEL (VA7ST), KTC (VE7CV), RIC (VE7DDG), SGI (VE7JKZ), SUN (VE7BC), SWR (VA7NF)
Some operators snapped up multiple awards, a reflection of perseverance, skill and contesting experience. The sit-in-the-chair, stay-on-the-air commitment of participants with an Orca connection is what keeps the BCQP profile high. TU.

In our in-house draw for Orca members who submitted BCQP logs with at least 25 Qs, "VA7QD," "VA7BEC" and "VA7NR" were pulled from the box. I was pleased to have my callsign drawn, but I gave up my winnings to a fourth pick: "VA7ST." Jeanne VA7QD was in attendance and selected the White Spot gift card. Steve VA7NR will get the BC Liquor Store gift card. And Bud VA7ST will get the Home Depot gift card. Congratulations!

Certificates and plaques have been put ina the post, either USPS or Canada Post, so winners can expect something shack-worthy very soon. And for those who are getting a certificate for top score in a category of entry, you should find a small gift inside — special Post-It notes.

BCQP 2019 will take place on Feb 2 and 3, 2019. It will be a two-day even again, since the second day brought a lot of positive comments in 2018.

Main Presentation: Botswana Revisited Dave VE7VR is just returned from his trip to Africa. We'll get more details on this trip and the radio connection at the convention BC Day long weekend. For now, we saw photos and videos of elephants, zebras and Victoria Falls. It looked like an amazing adventure.

This is VA7BEC. QRT.
The Orca Report (No. 71)
May 8, 2018
May 8, 2018 -- Avid readers of The Orca Report may have wondered why there wasn't an April edition. Simply, it wasn't written. Your reporter was out of town. You can assume, however, that a lovely time was had by all who attended. Because we always have a nice time when we get together. And now I'm back.

For the May meeting, we were a group of 18 this month, mainly due to a large number of regulars being out of town. Membership currently stands at 85, of which about 40% are beyond reasonable commuting distance for a meeting. Hopefully, we'll see many of these people at the PNW DX Convention in August.

PNW DX Convention

The event website has everything you need to know about the program and who's attending, as well as details on the hotel. This year's agenda looks great. Please visit the convention website at http://pacificnwdxconvention.com to register and peruse agenda details.

This site will also provide you with accommodation info. Note that if you go to the hotel site to make a reservation, you might see that there aren't any rooms available. But that's because a big block of rooms has been set aside people attending the convention. Also, the regular accommodation rates look atrociously expenses. But rates have been discounted for convention attendees. Don't use the hotel's online booking page. Instead, phone or email the reservations desk, and mention that you're attending the DX convention so that you get the discounted rate.

If you're still not sure about whether the convention is worthwhile or not, consider…. 1) the PNW DX Convention is a fabulous time to meet and/or catch up with people you might not get a chance to see on a regular basis; 2) the venue is beautiful, situated right on the Fraser River; 3) presentations are interesting – and the one by Scott Tilley VA7LF on "Lost NASA satellite discovered" is a do-not-miss opportunity, according to people who have heard the presentation; and 4) this convention is in our (Canadian) neck of the woods, so there won't be any exchange rate surprises on the credit card statement.

BCQP 2018

Preparations for the official announcement are in progress. Expect details in June.

Main Presentation: FT8 Teaser

FT8 is a digital mode. It is named after its developers: Steven Franke K9AN and Joe Taylor K1JT. The "8" designates the mode's 8-frequency shift keying format. Tones are spaced at 6.25 Hz, and an FT8 signal occupies just 50 Hz.

It's a new mode, debuting on July 15, 2017, and is taking the amateur radio world by storm. FT8 is flavor du jour, not only in the digital world but, apparently, increasingly popular with operators who have favored phone and CW.

For operators who like JT65, a "weak-signal" mode—FT8 is about four times faster, which really isn't saying much because it's still slow, compared with CW and voice. But still, its 15-second transmit/receive cycle is four times faster than JT65. For people who like other modes but find it frustratingly difficult to complete DX QSOs because vital exchange information coincides infuriatingly perfectly with regularly recurring noise or openings are short or signals are weak and fading or there's a language issue, then, FT8 is great. QSOs are essentially automated, with macros, and content is very specific. Just set up and click. Operators are logging thousands of QSOs with DX stations around the world rather effortlessly despite -1 sunspots.

Each QSO consists of callsign, grid location, signal strength and "73" to end. All done by software.

Setup isn't too difficult, and there are lots of tutorials on how to install and configure the software, hook stuff up, etc. Here is the link for WSJT-X. The most recent version is 1.8, and there are releases for several operating systems, including Mac OS X, Linux and Windows. This operating guide by Gary Hinson ZL2IFB might be helpful to anyone who is unsure of how to proceed.

Currently, because of the standard messaging format, FT8 is not a contesting mode. For that reason, despite it being the HF flavor du jour, FT8 was not an accepted digital mode for BCQP. Contests require different exchanges than the standard FT8 message sends out.

FT8 has the potential to attract newcomers to our hobby and enable small pistol operators to enjoy DXing. But will this be enough to sustain current popularity? We'll see.

This is VA7BEC. QRT.
The Orca Report (No. 70)
Mar. 13, 2018
March 13, 2018 -- We were a slightly larger group than last month, reaching 21, with the return of a few regulars who had been out of town. We were again in the smaller enclosed room, which is nice a cozy but rather noisy when there are lots of conversations going on and a tight squeeze when the screen goes up for presentations. Seems the restaurant is getting busy on Tuesday evenings and the main room was fairly full. If we are to be allocated that more open space, we'll need our meeting numbers to get back into the 30+ range.

Membership Dues

Time to pay up for 2018, if you haven't done so already. Just $24 for the year. You have several options: PayPal, cheque/check payable to Orca DX and Contest Club, or Interac email money transfer for anyone in Canada who use online banking. Go to the membership page of the Orca website for further details.

If you have paid and don't see you name on the roster, contact Treasurer Dave VA7AM and he'll check his records. Sometimes people think they've paid – cheque by snail mail, PayPal or Interac (for Canadians) – but it was for the previous year. Time flies when you're having fun! Or perhaps it's just taking time from receipt of payment by Treasurer Dave to updating the list by Webmaster Bud VA7ST.

PNW DX Convention 2018

Presentation details are being worked out. If you have ideas for a presentation (and maybe, could make the presentation?), please contact President Dave.

The website is up and you can register with just a few clicks. Go to the website.

BCQP 2018

The log deadline has passed. Here are some early details:
Number of logs received: 107 (BC: 33, outside BC: 74) Of outside-BC logs, 16 came from other provinces, bring cross-Canada participation in BCQP to 47.1% of all logs received. Log-submitting participants from outside North American? JA, DL and OM Number of districts activated: 26 (out of 42), mostly in Lower Mainland and Vancouver Island Number of BC stations on the air: 63 Number of BC operators involved: 81, including one BC ticketholder operating in the US with US callsign *Difference in number of stations and number of BC operators reflects team participation. There were six teams 22 logs had 50 or more Qs, of which 13 logs had 100 or more Qs, and a few of these logs had upwards of 500 or more
Plan is to have the detailed report and official results ready for announcing by June. Stay tuned for further updates.

Evening Program: Botswana revisited

Back in 1972, Dave VE7VR's father's company won a contract to build a coal-fired power station and transmission line in Botswana. Dave's father was foreman for the power line construction. The family spent seven months in Selebi-Phikwe, and during this time, Dave was active as A2CEW. With an FTDX-400 and Hy-gain 2-el triband yagi, he made more than 2,000 Qs. What a fabulous experience in a totally different setting than his old VE4 surroundings. Instead of VE/Ws, the bands were full of VUs.

Fast forward to 2018. Dave is going to go for a visit. He and XYL Marcie will fly to Johannesburg, South Africa, and then drive north. He'll be on the air May 25-27 from Selebi-Phikwe. A detailed recap of this adventure and stops along the way will be provided in a special presentation at the PNW Convention in August.

Other Stuff

Remember that the Orca Lunch takes place every fourth Wednesday of the month. Ken VE7BC sends out emails to everyone, just in case out-of-towners happen to be in town on an Orca Lunch day, so if you're not getting the info, please let me or Ken know so that you get on the appropriate list.

QRT de VA7BEC
The Orca Report (No. 69)
Feb. 13, 2018
February 13, 2018 -- We were a group of 17 and relegated to the smaller room. We covered a lot of topics, from an abbreviated annual general meeting to 3Y0Z.

AGM Your executive is, for the moment, the same as it has been. Some existing members of the executive have indicated that they would like to shift out of their director roles, but no one else has volunteered to step into the position(s). President is VE7VR. Vice-President is VE7CT. Treasurer is VA7AM. Secretary is VA7BEC.

Membership Dues

If you haven't paid your membership dues, you have several options: PayPal, cheque/check payable to Orca DX and Contest Club, or Interac email money transfer for anyone in Canada who use online banking. Go to the membership page of the Orca website for further details.

If you aren't sure if you've paid for 2018, you can email President Dave VE7VR or Treasurer Dave VA7AM for confirmation.

PNW DX Convention 2018 in New Westminster

The date is set — August 3-5, 2018. This is the BC Day long weekend. The agenda is being formalized. You can register now for the convention and make reservations at the hotel — Inn at the Quay — as well. The website has all the necessary links.

Remember, if you plan to stay at the convention site hotel, tell the reservation desk that you're part of the DX Convention. There is a block of rooms set aside for attendees.

BCQP 2018

BCQP 2018 took place over the Feb 3-4 weekend, for a total of 20 hours under a new two-segment structure. It appears that the addition of Sunday hours was well-received.

While other same-weekend events, particularly MNQP, put out-of-province operators at the radio where they might become accidental participants in BCQP, a growing number of out-of-province operators already put BCQP on their calendars and got right into the hunt for VE7/VA7s. In fact, there was a bit of friendly competition for Top US spot. Sunday hours were a nice option for returning and new participants to make Qs with BC stations. We'll see how scores unfold as I check submitted logs.

As of February 13, 2018, a total of 90 logs have been received: 24 from BC stations and 66 from outside BC. I expect a few more logs will come in over the next couple of weeks. The deadline is March 4, 2018.

The propagation gods did not favor us with a sufficient number of sunspots, but we all muddled through somehow. 20m was probably the go-to band for all modes on both days, but 40m was pretty good and 15m was, at times, OK, particularly on Sunday. Overall, participants seem to have had fun.

In previous years, the biggest complaint came from CW-only operators who found the going too frustrating to continue once NA Sprint CW started — last four hours of Saturday segment — but with Sunday hours, CW operators were able to enjoy QSO opportunities without having to hold their own against the QSY requirement of NA Sprint CW. Instead, the complaint from inside and outside the province this year was that there weren't enough CW stations to contact. That, I'm afraid, is not a problem I have a workable solution for.

On SSB, a good number of VE7/VA7s were calling CQ. Unfortunately, with propagation as it was, these stations were not necessarily heard throughout the province and beyond. Location, antenna direction and operator ears also impact workability.

The sponsor station log doesn't have a huge number of VE7/VA7s — we heard some that other BC stations didn't hear and are missing some that other BC stations did hear — but we have a considerable increase in QSOs with stations all across Canada and nearly every U.S. state, including Hawaii and Alaska. DX is sorely lacking, compared with other years.

As BCQP contest coordinator, my policy has been to support other same-weekend events in the hope that participants in those events will support BCQP. Trading Qs can be mutually beneficial. But not all same-weekend event organizers make it known that other events coincide and so some participants offer the exchange of a different event to BC operators. It can get confusing. I think BC operators, particularly those calling CQ BCQP, should be firm and get the info they need for their BCQP log before offering info for someone else's event.

I sent in a log with traded VTQP info and, as confirmation, got a link to the received-logs list for that party. Out of curiosity, I compared the number of logs received by the VTQP sponsor for that event with the number I have received for BCQP. As of Feb 12, the organizer had received 14 in-state logs and 111 out-of-state logs. Interesting. More out-of-state than in-state participation. Just like BCQP.

Of the out-of-state stations submitting logs for VTQP, 41 of them also submitted logs for BCQP. The trend may carry through to MNQP out-of-state participants as well. Haven't checked. But it seems that a lot of U.S. operators play in more than one same-weekend event. Maybe none of the same-weekend events offers enough activity on its own?

I think Sunday hours raised the profile of BCQP. In my promotion efforts, I send emails to clubs in BC, the rest of Canada and throughout the U.S., updates to contest calendar minders, and reminders to past participants. But there will always be people who I cannot reach. Our new Sunday hours seem to have attracted the attention of casual Sunday operators and made more people aware of BCQP. We'll see if this translates into activity from people whose interest has been sparked for next year.

I will provide more updates as results are finalized.

Evening Program

First, 3Y0Z. You probably know by now that the DXpedition did not make land. The ship developed engine trouble and the captain recommended a return to civilization. The team was understandably disappointed but safety comes first.

We watched a short video featuring Mark Ludwick W8BBQ from DX Engineering and Hal Turley W8HC, a member of the 3Y0Z team, filmed in December 2017. This video, which described the use of propagation tools for working 3Y0Z, had it gotten on the air, was the first of six Bouvet Island DXpedition videos from DX Engineering. All can be view on YouTube.

We all certainly hope that the 3Y0Z team, which includes two Orca DXCC members (Keith VE7KW and Paul W7IV), get home safe and sound. Updates as they make a slow journey to Capetown can be found here.

Our second video was about INDEXA (International DX Association), the non-profit organization dedicated to working DX and making DX possible. Interestingly, many of the DXpeditions that INDEXA has supported in the last few years have included members of Orca DXCC.

And that's it for the February meeting. Happy Valentine's Day. QRT de VA7BEC
The Orca Report (No. 68)
Jan. 9, 2018
January 9, 2018 -- At our first meeting of the new year, the room at the RiverHouse seemed unusually full… but Orca members only accounted for about half—15—at the tables. The bar side is being renovated, and guests who would have been on the bar side sat amongst us on the so-called restaurant side. This situation didn't really cause any problems since there was no presentation and just a bare-minimum of announcements.

Membership Dues

If you haven't paid your membership dues, you have several options: PayPal, cheque/check payable to Orca DX and Contest Club, or Interac email money transfer for anyone in Canada who use online banking. Go to the membership renewal page of the Orca website for further details.

BCQP 2018

Less than a month to BCQP 2018 – Feb 3-4, local time. Remember, this year, the event will run in two blocks: the regular 8am – 8pm block on Saturday, Feb 3, and an extra block of eight hours on Sunday, Feb 4 that starts at 8am and goes until 4pm.

In contestese, that's 1600z Feb 3 to 0359 Feb 4 AND 1600z to 2359 Feb 4

Work as much of the 20 hours as you like on whichever mode(s) you like. There is no required off-time, except for the gap between the two blocks (0400z and 1600z on February 4). The blocks are not mode-designated, although CW operators may find the going easier on Sunday because NA Sprint CW will not cause frustration (0000z to 0359z). RTTY operators might also like Sunday better because the XE RTTY contest will be over.

I have received some inquiries about FT8. Unfortunately, this digital mode du jour is not compatible with the BCQP exchange, so not allowed.

I am very pleased to provide an update to the plaque program. Elizabeth VE7YL is sponsoring a new plaque category: Top CW.

Many of the get-on-the-air, stay-in-the-chair operators in BCQP are Orca members. You keep the profile high and make this club-sponsored event increasingly popular and fun for operators near and far. Hope to hear you on Feb 3-4 as the VA7ODX team hands out bonus points.

And remember, Orca members who make at least 25 QSOs and submit a log will be eligible for our in-club draw for $25 gift cards. Typically, three names are drawn.

Annual General Meeting

Will take place at the February meeting.

QRT de VA7BEC
The Orca Report (No. 67)
Dec. 12, 2017
December 13, 2017 -- The December meeting is always a time for Orca members and significant others to get together. Although only 20 people attended the meeting, it was great to see so many people who had been regular attendees but moved beyond reasonable commuting distance last year.

Since this was a very casual evening, there were no announcements and no presentations.

Enjoy all the holiday-inspired activities that make December special. Be well. Be warm. All the best for 2018. (It will be a busy year for us: BCQP 2018, with extended hours on Sunday; and the PNW Convention in our neck of the woods.)

QRT de VA7BEC


The Orca Report (No. 66)
Oct. 10, 2017
October 10, 2017 -- We were a group of 19 at the RiverHouse. There were a few announcements, a section of a longer webinar on propagation projections, and our evening presentation (Keith VE7KW, talking about the upcoming DXpedition to Bouvet Island).

Announcements

CQ WW DX SSB

Major weekend marathon contest, just 17 days away. (Oct. 28-29 weekend | Rules)

PNW Convention

Planning for 2018 is still in start-up mode. If you have ideas, please forward to President Dave VE7VR.

BCQP Update

BCQP 2017 results were announced last month. For those of you who missed the announcement, the spreadsheets of BC and out-of-BC scores as well as the detailed report and sample photos of the plaque and certificates are available for viewing from the BCQP homepage.

Tonight, we did the draw for gift cards. All club members who submitted logs with at least 25 QSOs were eligible for this draw. There were 20 callsigns in the box, including club members who were on teams that submitted logs. Three callsigns were drawn, with $25 gift cards (Canadian Tire, Home Depot and White Spot) going to Bud VA7ST, Pete VE7CV and Brian VE7JKZ. Congratulations! Gentlemen, your cards will go out by snail mail. And thanks to everyone who got on the air!

BCQP 2018 promotion will start in November.

Of note, there will be a change for 2018: An extra eight hours will be added to the event. It will run the usual 12 hours on Saturday, Feb 3 as well as eight hours on Sunday, Feb 4 (local time). Hopefully, this will alleviate some of the frustration caused by same-weekend events that do not mesh well with the BCQP exchange on CW and digital.

Propagation Webinar

Carl Luetzelschwab K9LA and Frank Donovan W3LPL conducted a webinar entitled "A Look at Propagation for the 2017 2018 Contest Season" on October 4. It was sponsored by the World Wide Radio Operators Foundation (WWROF) and offers predictions for Cycle 25 and suggestions about what we contesters and DXers might expect over the next few years in terms of HF conditions. The video runs about an hour. But if you only want to see the PowerPoint slides in PDF form, go here.

Bouvet Island DXpedition 2018: 3Y0Z

Keith VE7KW is on the Bouvet Island 2018 team and provided some background on the DXpedition and an update on preparations.

Bouvet Island—the most remote island in the world—is an uninhabited, subantarctic island in the South Atlantic Ocean. Formed by a volcanic eruption somewhere around 4000 B.C., the island lies approximately 2,700 miles east of the southern tip of South America, 1,800 miles west of South Africa, and approximately 1,000 miles north of Antarctica. It is almost completely ice-covered, with the aftermath of a landslide providing most of the very limited non-ice-covered area. Water access from ship to shore is still problematic, so helicopters are the preferred mode to transport people and things. But even then, weather can play havoc with plans. The island falls under Norwegian claim.

From an amateur radio perspective, Bouvet Island is currently No.2 on the DXCC most-wanted list. The DXpedition will be expensive, difficult and dangerous. Planning and preparation will be critical to success and to the safety and well-being of team and crew. The 20-member team is very experienced, with an operator list that reads like a who's-who of DXpeditions. Initially, Steve VE7CT and Neil VA7DX were on the team but had to withdraw. In their stead, Orca will be represented by Keith and Paul W7IV.

The team will travel to Bouvet Island aboard the m/v Betanzos, leaving from King George Island, across the Drake Passage from Punta Arenas, Chile, on a 10-12 day "seasick express," as Keith put it, depending on winds and sea conditions. The best scenario will be for 14-16 days of operations, based on how weather affects helicopter flights from ship to shore.

Operating-wise, there will be 12 HF stations and 2 EME stations. Sponsors have been extremely generous in providing equipment—six tons + of it! There will be four shelters: two for sleeping, one for operating and one MEG (meeting, eating and greeting).

Expenses… huge. The teams has budgeted for US$751,000, of which the ship and crew and the helicopters and pilots will account for US$625,000.

The DXpedition website is thorough and provides lots of background and details, including propagation pages for each band, news releases and sponsor info, along with the usual geographical data and team bios.

As an aside, a strong and shallow earthquake registered by the USGS at magnitude 6.7 hit the region on October 10. This was the second M6+ earthquake within 24 hours.

And that's a recap of the October meeting.

Don't forget the Orca lunches are still held every fourth Wednesday. Ken VE7BC is in charge of these get-togethers and sends out emails to the whole membership close to the meeting date.

QRT de VA7BEC
The Orca Report (No. 65)
May 9, 2017
May 10, 2017 -- Attendance rebounded to 21, as many of the regulars who were away at TM100VIMY when the April meeting took place were home again and came out to the May meeting.

Updates

2017 DX Convention

The 2017 PNW DX Convention, hosted by the Spokane DX Association and the Idaho DX Association, will take place in Spokane Aug 4, 5 and 6. The convention page has all the usual links (registration, hotel reservations, program, prizes, attendees...)

2018 DX Convention

Planning has started for the event in our neck of the woods. If you have an idea for a presentation or a organization-oriented suggestion, please tell Dave VE7VR.

Field Day 2017

No one has stepped up to fill the coordinator's shoes of Don VE7DS. And since Field Day takes place next month—June—it may be too late to get a team ready. If you would like to use the club callsign on your own or with a couple of people, please contact me (VA7BEC).

Note, I am NOT coordinating a Field Day activity nor am I able to participate. But since the callsign should not be used by more than one person on the same band and mode, someone has to be the "is the callsign available?" person. That's me. Also, since I am the QSL manager for the club's callsign, I need to have access to the event log for the operator(s) who get(s) on the air so that I can reply to QSL cards received.

Evening Presentation: TM100VIMY

Orca was a sponsor of this event and eight members of the TM100VIMY team are Orca members, so we have all been in the loop from early on in the planning process. Past Orca reports are full of background and details.

Also, a pre-event article appears in the March/April 2017 edition of The Canadian Amateur, and a post-event article appears in the May/June 2017 edition of the same magazine. The latter also contains comments from some of the VE100VIMY portable operators. A very good read. In fact, I recommend it. If you don't get a printed or digital copy of the TCA, please contact me. I will make a copy of the article for you.

So... at the recent Orca meeting, Don VE7DS focused on actual operations at TM100VIMY. Yes, the callsign IS different than the one initially promised to the team. Turns out that the area falls under French policing, even though the land was given to Canada, so the callsign took TM instead of VE.

TM100VIMY was on the air from April 1 until the official celebration ceremonies on April 9. Overall, 17 operators were in involved: 15 full-time, two part-time. The QSO count hit 9,246 and comprised 76% CW and 23% SSB. That makes 99%, so while not mentioned, I'm guessing that the remaining 1% was RTTY. The country count was 84, with Russia in top spot with 916 Qs, and the U.S. second, with 470 Qs. Canadian callsigns appear 235 times in the TM100VIMY log. There is a further breakdown of Canadian Qs in the TCA post-event article. The best band was 40m, with 2,965 Qs.

Europe was an easier catch, it seems. Over-the-pole to Canada, particularly the West Coast, was difficult given very uncooperative CONDX. What's new?

Don saw the event in layers: history, remembering, radio and outreach. "History" was represented by replica planes that flew daily over Vimy Ridge. "Remembering" was captured in the field of boots, each with a poppy, that covered the fields as a memorial to those who had fallen there 100 years ago. "Radio" was the core—lots of effort and coordination to get the radios on the air, not without unexpected challenges. More on that below. And "outreach" was connecting with local groups.

For years, Don and other key members of the team had negotiated with various levels of government for access to a building, but... it became unavailable to the team. That revelation was made two weeks before TM100VIMY was to go QRV! Oh no! Where would the team operate?! Veterans Affairs Canada granted use of space adjacent to the building, but what about a shack? Local team member Didier F6BCW came to the rescue. He arranged for a portable shack, which was delivered and quickly installed. Antennas were then set up at the emergency shack replacement, and the station was ready to go on air 12 hours early. Two operators (wo)manned positions around the clock, even during the official VIMY ceremonies. And that was a organizational hurdle as well. Special security clearance was required for the four operators who would keep TM100VIMY on the air over the last 30 hours.

The outreach activities included a visit by team members to a local school, initiated by Sylvie F1PSH, a teacher who was herself a radio amateur and had organized an amateur radio club at her high school and had gotten her students licensed. Dave K3EL and his XYL Anne gave a presentation to a group of 150 students and veterans in Lillers, a town 50km northwest of Arras. They were joined by 11 members of the TM100VIMY team.

Another meeting opportunity was with a group of 25 local radio amateurs in Souchez. Here, Don gave a presentation. Unbeknownst to the TM100VIMY team, the French had also wanted to run a commemorative station. The Canadian team was first, though, and that might have irked the French amateurs. The lunch meeting appeared to smooth ruffled feathers, and camaraderie prevailed.

Aside from radio-related activities, an event that provided a wow moment was a sound and light show in Arras, modeled after a similar show at Parliament Hill in Ottawa.

"Three Seconds of Light", which was actually 20 minutes long, illuminated the front of renowned historical buildings in Place des Héros. The event, on the theme of what can happen in three seconds that can change a day, a life and a country, utilized lighting, images, sounds and music to explore Canada's military history and long-standing relationship with France. Read the news release for more details.

As with any DXpedition—be it on an island off the coast of BC or a windy, frozen scrap of land in the subantarctic or a suitcase-style vacation-with-radio adventure—there are always logistical challenges, costs and lots of preparation involved. Some aspects can be controlled or mitigated. Some, like band conditions, cannot. Regardless of the difficulties, if a team works together, the effort is always worthwhile. It's usually a learning experience, as well. And so it was for TM100VIMY.

Next Meeting: September?

The June meeting may be cancelled. Steve VE7CT and I (VA7BEC) have on occasion filled in when Dave VE7VR was unable to attend a meeting, but we are not able to do so in June. If someone else would like to "lead" the group in June, please contact Dave.

The meeting would not need to have an event or presentation. Just an opportunity for dinner and a chat among friends.

BCQP Results

Ever since Orca assumed sponsorship of BCQP, the June meeting has been used to hand out certificates and plaques to the many members of our club who do so well in this event, and to do the in-club draw.

For various reasons, certificate and plaque production has been delayed and won't be ready by June 13, if a meeting were to be held. So... winners will receive certificates and plaques by snail mail when printing and production is completed. The special report and detailed results will be posted to the Orca website BCQP page when ready. Email notifications will go out when the time comes.

QRT de VA7BEC
The Orca Report (No. 64)
April 13, 2017
April 14, 2017 -- We were a very small group on Tuesday evening... just 12 people. Many of the regulars were out of town, most at TM100VIMY.

Updates VIMY

Operations wrapped up on April 10. Returning team members will undoubtedly have stories to tell at upcoming meetings.

Field Day

No one has come forward (yet?) to put together a team using the club callsign. If it turns out that no one coordinates an effort along the lines that Don VE7DS has done the past couple of years, the callsign will be available for a single operator entry. To avoid more than one station using VA7ODX during Field Day, please let me know if you want to run with the callsign.

Membership

Membership currently stands at 85

PNW DX Convention 2018

Planning has begun.

Dave VE7VR will be attending the convention in Spokane to promote our turn as host.

Evening Presentation

It was movie night, ham style. We saw a few episodes of Ham Nation.

Ham Nation is a show about ham radio. It premiered on May 24, 2011 and as of April 12, 2017, was on episode 295. The show airs live on Wednesdays at 6pm on the West Coast, and content is quite varied, from projects to people. If you miss a live broadcast, you can watch an episode later. Take a look at the list of episodes. There are actually many websites from which you can find episodes to watch, including the link above as well as http://wiki.twit.tv/wiki/Ham_Nation or just go to YouTube and type in Ham Nation.

A very short Orca Report.

de VA7BEC
The Orca Report (No. 63)
March 14, 2017
March 15, 2017 -- We returned to our usual second Tuesday of the month meeting schedule. The commute was relatively nice, and the setting sun shone brightly into the dining area of the RiverHouse. We were a group of 23 members and guests.

There were a few updates—VIMY, PNW Traveling Trophy, Field Day 2017, PNW Convention 2018 and BCQP 2017—and then two presentations, one by Fred VE7IO on VE100VIMY/VE7 operations from his station and the other by Adam VA7OJ/AB4OJ on SDR vs. legacy radios. Said and Heard

VE100VIMY/TM100VIMY

Portable operations are now in Yukon territory. During the VE7 week, a solid crew of operators spent a lot of hours calling CQ VE100VIMY/VE7, and the composite log shows Qs with stations all over the world.

It was tough—CONDX was awful—and "VE100VIMY/VE7" in CW is quite a fistful to send and probably caused a few moments of "VE1? No, VE7? Ahh... which way do I point the beam?"

Fred VE7IO did an awesome job coordinating the VE7 effort. Keith VE7KW had the onerous task of dealing with logs from VE7 volunteers.

BTW, have you seen the cover of the latest TCA? Orca member Brian VE7JKZ is one of the featured VIMY portable operators.

Since the slideshow by Fred relates to VIMY portable operations, let me describe it in this section. During the VE7 week, Fred did some night-time operation and also filled in when scheduled operators had radio issues that prevented them from getting on the air. The slideshow, with audio, featured some of the CW contacts in a very nicely produced format. VY FB Fred.

Note that portable operations are like appetizers, and the main entrée will be served at 0000z April 1 when TM100VIMY goes QRV from the Canadian Vimy war memorial site in France. The callsign takes the French prefix because the site is governed by French law. TM100VIMY will be heard on CW, SSB and RTTY from April 1 through April 10, with 17 operators working two stations on 160m to 10m as band conditions allow.

PNW Travelling Trophy

Jim VE7FO, minder of the spreadsheet of scores, provided an update on leader status. As amazing as this sounds after several years in top spot... Orca DXCC is lagging behind Willamette Valley DXC. If you have participated in one or more of the eligible contests but have not posted your score to 3830 or did not select "Orca DX and Contest Club" as your club, Jim will not have included your score in the calculations.

Very soon, Jim will provide numbers to Bud for posting on the Orca website. Please check there to see if your results are in spreadsheet. If not, you can contact Jim.

PNW Convention 2018

The next convention is actually in Spokane, Aug 4-6, 2017, but Orca will play host in 2018, so planning will begin soon. Dave VE7VR has already booked the hotel—same QTH as the last time Orca hosted the convention—since weddings and business meetings tend to fill the hotel's schedule very quickly.

Field Day 2017

Don VE7DS is still looking for someone to take over as coordinator, as he is not available this year. He will provide all the necessary background information and the hows, whos and wherefores regarding site access, setup, log-submission, etc. Please contact him if you are able to fill in.

BCQP 2017

The log submission deadline has passed, so now it's time to analyze results. The usual detailed report will be written but in the meantime, here are some highlights:

Total of 89 logs received, up from : 30 from BC and 59 from outside BC. 27 districts activated, down from 29. Number of BC stations on the air dropped to 70, from 80, but number of BC operators involved in BCQP 2017 rose slightly, to 104, reflecting an increase in the number of teams.
As I mentioned in February's Orca Report, I am considering a change that might benefit CW and RTTY operators.

One of the most common suggestions I receive—more like a desperate plea, perhaps—is from CW operators who want BCQP to be held on a different date, mainly because NA Sprint CW causes too much frustration, even with alternate suggested frequencies. For various reasons, that is not an option. One reason is that the CW pool is very shallow to begin with and there's no guarantee that a different date would be ideal for these few BC participants and/or attract more CW and RTTY operators overall. In addition, a change in date might cause a drop in mainstay PH support.

What's the next best thing to a date change? Extending the hours of BCQP.

In addition to the existing 12 hours on Saturday, BCQP will run for eight hours on Sunday. This won't necessarily be a mode split, with SSB on Saturday and CW/RTTY on Sunday, but it's possible that CW operators, particularly CW-only participants, will choose to focus on Sunday when there is no FOC or NA Sprint CW to cause headaches.

All participants would be able to work all 20 hours on whatever mode(s) they choose, if they so wish.

As with everything, extended hours will be applauded by some and booed by others. I've already heard comments for and against. What do you think? Do you like the idea of extended hours? Let me know.

Main Presentation: "SDR vs. Legacy Radio — which is better?"

Using materials from a presentation he gave at APDXC 2016, Adam VA7OJ/AB4OJ described the differences between a software defined radio and a legacy radio. The presentation is available in PDF format here if you missed the meeting and/or just need to review all the information. I admit, I got lost. Lots of acronyms and lots of technical details. Not my forte. LOL

Adam's website also contains volumes of test reports and tons of information. Since the IC-7300 is attracting a great deal of attention recently, you might be interested in Adam's user evaluation and test report for this radio.

Adam is very thorough in his reports and presents all the pertinent details in a concise, well-written style. Go to his website, hit the site map button, and be amazed at the list. Scroll down to User Reviews & Test Reports. Great resource! TU Adam.

That's it for March. See you in April. GL to the VIMY team. Safe travels and hope to see you in the pileups. QRT 73 de VA7BEC
The Orca Report (No. 62)
February 15, 2017
February 16, 2017 -- Because our usual second Tuesday of the month fell on Valentine's Day, the RiverHouse asked if we'd switch to Wednesday, the 15th, and we did. The snow and slush was gone from most areas of commuting distance, replaced by copious amount of rain. Despite the weather, 27 Orca members and guests gathered at the RiverHouse.

Said and Heard

3Y0Z

A significant donation has been made to the 3Y0Z Bouvet 2018 DXpedition, and a very nice email of appreciation was received from Bob K4UEE. Dave VE7VR is planning to send out an email to Orca members regarding the donation and the thank-you. Steve VE7CT, who happens to be a member of the 3Y0Z team, took the mic and also thanked Orca on behalf of the team. Please note that Steve was not involved in the decision to make the substantial donation.

The DXpedition to Bouvet is a truly mammoth undertaking. The team boasts many, many very experienced DXpeditioners. The project has a nice website, so you can keep tabs on how preparations are unfolding and then later when the team gets on the air. Go to https://www.bouvetdx.org

Presentation Ideas

If you have ideas for presentations — or better yet, have the content and desire to do a presentation — please contact Dave VE7VR.

BCQP 2017

Despite poor CONDX and the impact of unusually heavy snow in the lucrative multiplier regions of the Lower Mainland and the Island, it seems we had a good turnout.

Some initial musings from the YL in charge... The often-heard complaint that CW was worse than grueling due to FOC and NA Sprint remained the top gripe. Digital, which I have been on the verge of dropping from BCQP for some years because of very meager participation, seems to have attracted new, active interest from BC stations, particularly RTTY. No longer on the chopping block. :) As of Feb 15, 2017, I have received 78 logs: 24 from BC, and 54 from outside BC. Q counts in logs submitted so far are down for most participants who get on the air and submit a log each year, likely a reflection of propagation-on-holiday. DX content, which is not necessarily large but is cautiously anticipated by anyone who makes a concerted effort to CQ, appears to be very, very thin in even the biggest logs. Regular attendees in our party tell me they tried valiantly to find BC stations and heard nothing, or when a VE7/VA7 was indeed heard, the op didn't hear the DX station. :( More teams got together for BCQP. Many emails with logs from outside BC extend compliments to BC operators— nice on-air presence and good operating conduct.

Given the increasing frustration of valued CW operators caused by FOC and NA Sprint, despite the alternate suggested frequencies, I am toying with a couple ideas that would essentially allow CW operators to play in BCQP when FOC and NA Sprint are not creating mayhem.

Making any change, however, is not as simple as saying "Let's do CW at a different time". There are many issues to consider. Would separate events for CW (and digital, probably) cause participation in the mixed category to drop off? That is, would participants who now do both SSB and CW play on both days? Would they have the time?

Also, because CW operators in BC are like rare DX entities, would there be enough operators to sustain a separate event? The profile of BCQP has risen tremendously in recent years, but is it high enough to entice CW operators near and far on a day when there is little other activity to put them in the operator's chair?

And then there are behind-the-scenes preparations: logging software would have to be amended and log-checking could turn into a nightmare (no, log-checking software only works when there are enough logs submitted to cross-check, and currently, that is not the case). It's not easy-breezy.

Anyway, just wanted faithful Orca Report readers and repeat BCQP participants to know that I am thinking of possible changes that will encourage greater participation from the CW/RTTY crowd while retaining the interest of the SSB crowd. Should have something to announce by the time I release the BCQP Report, probably in June.

VE100VIMY/VE7

It's our week to run with the VE100VIMY portable on all modes. The callsign is insanely cumbersome in CW but extremely skilled operators are tackling this with relative success. The VE* portable effort has attracted lots of attention, and operators are logging hundreds and hundreds of Qs during their respective shifts, despite challenging CONDX. Well done!

Field Day 2017

Don VE7DS is not able to coordinate a VA7ODX operation for Field Day this year. He is looking for someone to take on this responsibility. He will provide all the necessary background information and the hows, whos and wherefores regarding site access, setup, log-submission, etc. Please contact him if you are able to fill in.

Presentations

There were three presentations: 1) a quick introduction on making the TX5T DXpedition to Raivavae Island a success; 2) a different kind of "weather girl"; and 3) Mike's adventures as J3/VE7ACN, VP5/VE7ACN and PJ2/RW0CN.

Pointers for TX5T Success

Keith VE7KW is going to Raivavae Island as part of a CanAm team, with Neil VA7DX, Madison W5MJ and Bob W5RF. The DXpedition will be QRV from Feb 20 through Mar 3 and will be active on all modes, operating on 160m through 6m. Seeking to help make this holiday-style DXpedition a success for the team, Don VE7DS presented 10 slides that showcase the location and how to make the most of island features, based on his own experience there. Key features are, of course, the beaches — not just for snorkeling but for... antennas! — and church on Sunday, which is a very social time among island residents and will ensure divine band conditions.

Weather Forecast

Not your typical weather forecast. Dave VE7VR showed a video entitled "Fast Solar Wind & First Sunspot of a New Cycle: Storm Forecast" by Tamitha Skov. An amazing "weather girl" to say the least. You simply have to check this out.

Seems like she offers a weekly weather forecast that is perfect for radio amateurs, particularly those of us in the contesting/DX realm.

VE7ACN's Recent IOTA Adventures

Mike VE7ACN showed a lot of slides in a very short time! He covered a lot of territory, geographically and content-wise, with a great mix of local features and operating strategy.

The first stop was PJ2 (Curacao), then J3 (Carriacou Island, Grenada), and finally VP5 (Grand Turk Island, Turks and Caicos). After 28 days, 10 airports and 14 flights, Mike and assistant-par-excellence XYL Natasha returned home to snow, with the warm sunshine and lovely beaches of the Caribbean like an escape-from-winter dream.

His traveling gear was relatively compact and easy to set up and tear down. A vertical with numerous radials turned into a great 80m antenna with a sloping wire attached from the top. On VP5, he was able to set up his Spiderbeam.

Mike logged a huge number of Qs, mostly on CW, and had fun. And isn't that the primary goal?

The next adventure... KL7 in March.

That's it for the February meeting. Don't forget about the Orca lunch — always the fourth Wednesday of the month.

73
Rebecca VA7BEC
The Orca Report (No. 61)
January 10, 2017
January 10, 2017 -- Happy New Year! Hope 2017 is a year of smiles and laughter, good health and lots of fun at the radio. Given band conditions of late, not sure of the level of fun that can be achieved but… well, radio is like magic… you just never know when the bands will cooperate or where the QSOs will come from. I asked Santa for some help, especially for BCQP 2017, so we'll see what happens.

We were a group of 23. There were a few announcements and updates, and then we watched a couple of videos.

AGM

The January meeting is always our Annual General Meeting. There are very few formalities. In fact, the only agenda item was to confirm the composition of the club executive. Earlier in January, President Dave VE7VR asked standing executives if the status quo was OK, and all agreed to remain in their respective positions for another year. No one at the meeting on Jan 10 expressed any discontent with this, and so the club executive comprises

BCQP 2017

Coming up very soon!

Key Details


Resources


Tangible Rewards


Please remember...

1. Alternate suggested frequencies for CW
Alternate suggested frequencies have been announced for CW on 80M, 40M and 20M between 0000z and 0400z to mitigate some of the issues caused by NA Sprint. These frequencies are listed on the BCQP homepage. They are quite high up in the respective bands, encroaching on other mode allocations so, if necessary, move up or down a bit to avoid QRMing others.

2. Possible "net"
In past years, a couple of capable operators have tried to get a net-style situation going to help operators near and far "meet up" for a Q. This was done on 40m and/or 80m on SSB in 2016 and worked well. Last year, poor band conditions led to limited success. But listen for it, or try it yourself.

3. Lots of info on the BCQP pages of the Orca website
Whether you are a very experienced contester, a many-time participant in BCQP or need info to help someone else get prepared, please take advantage of the materials you can find on the BCQP pages of the Orca website. The schedule of same-day events and required exchanges is helpful, especially if you are asked to trade Qs.

4. Special draw for Orca members
Orca members -- dues paid as of BCQP 2017 (February 4, 2017) -- who make 25 valid QSOs and, obviously, submit a log, are eligible for a special gift card draw. At least three names drawn!

VIMY

Keith VE7KW and Don VE7DS gave updates on VIMY portable operations, and Fred VE7IO provided info on the VE7 schedule.

Portable operations began earlier this month, starting on the east coast. Operations are now in Quebec. VE100VIMY/VE1 and VE100VIMY/VY2 were very successful, with more than 8,000 Qs.

Award certificates, in PDF, will reflect the number of portable operations contacted, based on Vimy Ridge attack objective lines, and a poppy will be added for contact(s) with the operation at Vimy Ridge in France in April. See example here Logs from portable operations will be uploaded to HA2NA and award status can be checked and awards requested at vimy.ha2na.hu

VE100VIMY's QRZ page has been accessed more than 27,000 times already. The portable activity is definitely attracting attention.

Fred VE7IO is handling the schedule for BC's week -- Feb 12 00:00 UTC to Feb 18 23:59 UTC -- in the portable effort. If you'd like to take a block of time, please contact Fred at VE100VIMY-VE7@shaw.ca

DX/Contesting Presentations to Local Clubs

Dave VE7VR will be making presentations to a few local clubs, starting with North Shore ARC, to promote activity on the HF bands. If you have any ideas or approaches/incentives to encourage newcomers to our hobby to get more involved in DX hunting and contesting, send your comments Dave's way.

Dues

The email went out last week, and Dave VA7AM was taking payments tonight. Annual membership is just $24. Details on payment methods can be found here

Very easy: cheque, PayPal or Interac. If at a meeting, cash is probably OK, too.

Presentations: FT4JA 2016, DX/Contesting

A short video on the FT4JA DXpedition to Juan de Nova showcased some beautiful scenery and a great DXpedition. This island, situated between Mozambique and Madagascar, is a French possession, with a small military garrison and a weather station. Orca provided some funds to this DXpedition, and it was nice to see the club logo in the credits.

The other video was mostly guys chatting about how much fun it is to talk to people around the world. Our hobby creates a diverse community, where people of different ages, cultures, interests and social/career status come together in a unique form of friendship.

How can we get more young people into this great hobby? Let's promote BCQP, for starters!

And that's it for the January meeting.

Our February meeting has been bumped by Valentine's Day and will be held on Feb 15 -- a Wednesday.

This is VA7BEC, signing off. Hope to hear you on the air on February 4. I'll be running VA7ODX on SSB. Drop by to say hi and get some bonus points.